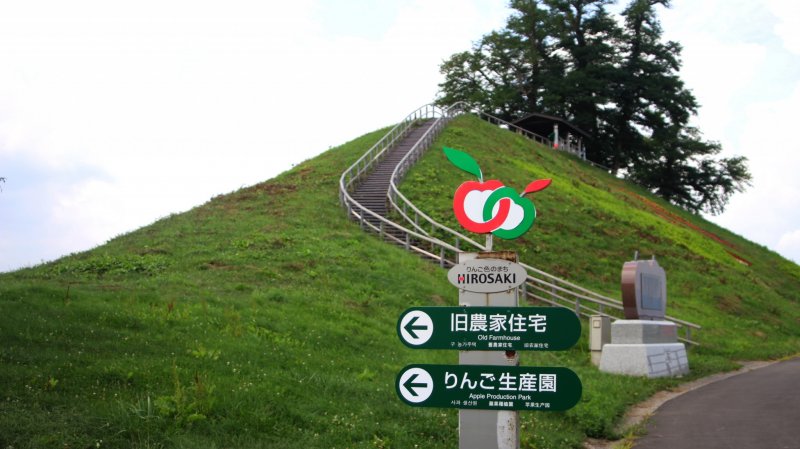 Hirosaki Apple Park
The entrance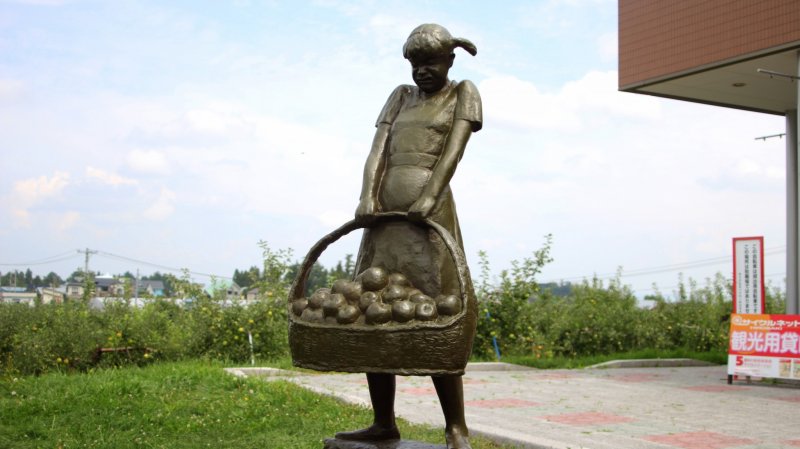 Statue of a girl with a bucket of apples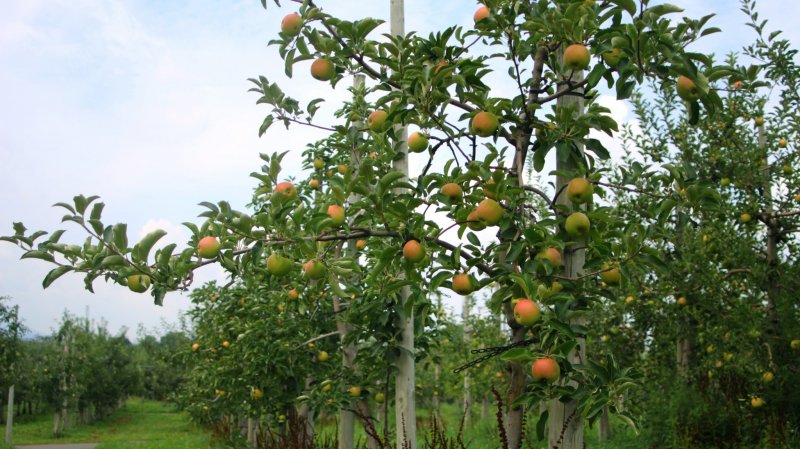 Some fresh apples
Another fresh apple
Some visitors enjoy travel around the park
Hirosaki, in Southwest Aomori Prefecture, is famous for the Hirosaki Cherry Blossom Festival, Neputa Festival, and the popular Tsugaru-jamisen and its special type of shamisen music. Hirosaki is also one of the largest apple producers in all of Japan. With over 3 million apple trees in the area visitors will see and taste plenty of foods and drinks made by apples such as apple pies, apple curry, and delicious apple sparkling wine.
Hirosaki Apple Park itself is a large expanse of apple tree fields with over 1,200 apple trees of 65 different varieties.This park provides several experiences for the visitors to help them understand and appreciate the apple culture. Visitors can take a tour and gain hands-on experience in the apple production process. There are several events throughout the year to enjoy depending on the season. From August to November, for example, you can walk through the fields and help pick fresh apples. Once you have collected your apples, you can then proceed to make them into juice or simply take them home as is. At the production experience garden, visitors can help to sort the apples by type, prune the leaves, place them into bags and freely explore the park area.
Nearby, there is an old apple farmhouse that has been converted into a museum. The farmhouse has traditional harvesting equipment some explanation about the equipment such as when and how it was used to help with the apple process. Most of the text here is only in Japanese.
After you have taken a look around the park and museum, you can also visit the restaurant and café. Here you can try some amazing foods such as the apple curry, apple pie, or apple soft cream. Don't forget to buy some souvenirs before you leave, as there are over 1200 apple-related products sold here.
From April 1st to November 30th there is a direct bus called "Tamenobu-go" for ¥200 JR Hirosaki Station to Hirosaki Apple Park.
From JR Hirosaki Station Central Exit , find the No. 6 bus stop and take the Konan Bus bound for Kawaharadaira/Tashiro/Daishu/Soma. The ride is about 20 minutes and costs ¥290. Get off at Tokiwazaka Entrance Bus Stop, and after about 5 minutes walk you'll arrive at the Hirosaki Apple Park.