Toyohashi's famous Sanai!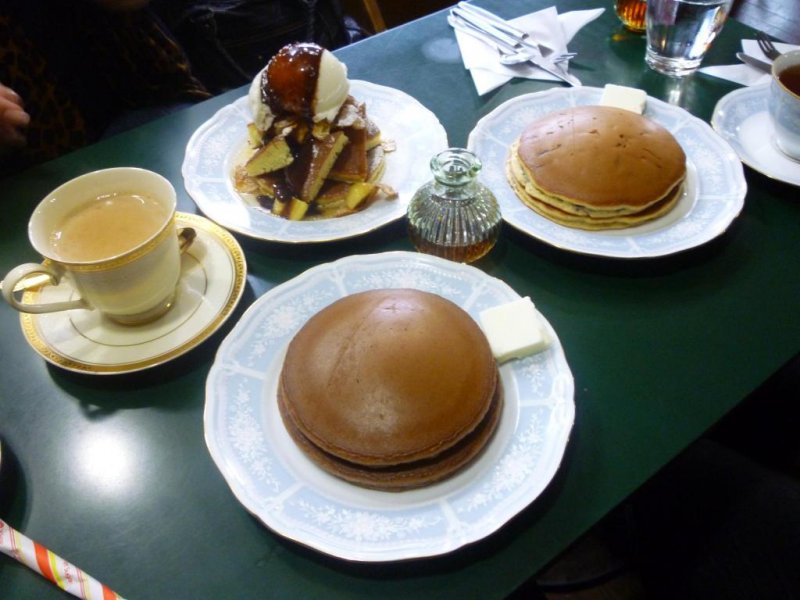 Chocolate, plain and banana hotcakes.
Mouthwatering Sanai selection
Sanai's relaxing old-style interior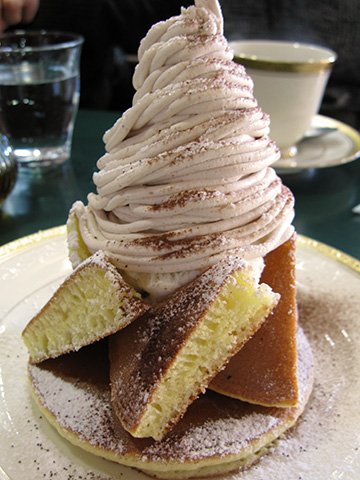 Marron hotcake tower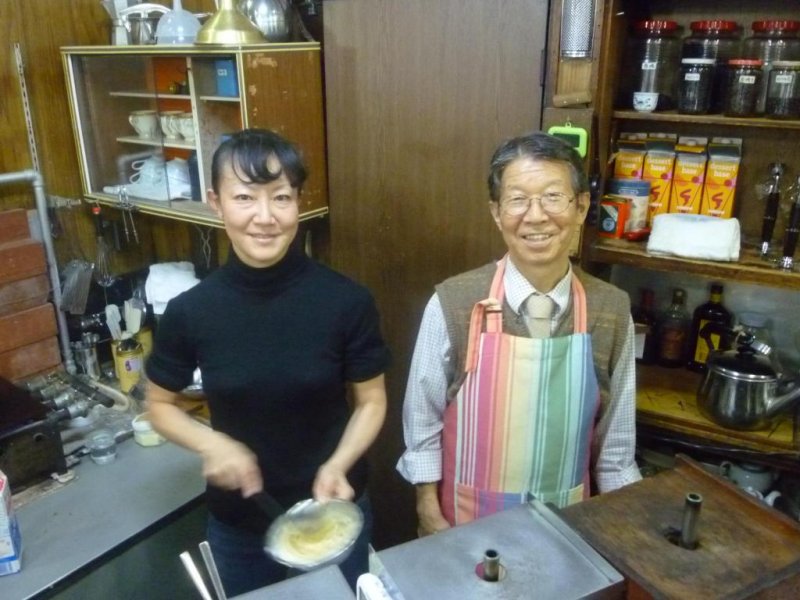 Sanai's gentleman master and daughter.
Toyohashi's famous Sanai! (Photo: PPF)
In central Toyohashi City, on the corner of a wide and busy intersection where the former Tokaido, now National Route No. 1 does a 90 degree turn and meets route 259, where thousands of cars, trucks, busses and even trams rush by daily, is a quiet little café specializing in pancakes, or hotcakes, Sanai!
Blink and you'd miss it small, Sanai is full at 15 people, and there is often a line outside waiting to get in. The stream of customers is never ending, and the ages of the customers runs as wide as the road out front. All come for what could well be Japan's best hotcakes! Look at it this way, I haven't tasted better! Ever!
Sanai is a Toyohashi institution, having opened nearly 50 years ago in 1964. Very little has changed since then! The clean, comfortable interior still invokes that early 60's simplicity and homeliness. Every day except Wednesdays, the master, usually accompanied by his wife, and more recently his daughter, have opened their doors at 8am to serve the early customers who come for breakfast, and then for morning tea, lunch, afternoon tea and early dinner not closing until 7pm, although as the master gets older and cleaning takes more time, Sanai has recently started to close at 6pm.
The menu features over 20 varieties of hotcake! The plain hotcake with butter and syrup is by far the most popular with patrons dropping by for a coffee. In fact, the small café offers over 40 different types of exotic, original and blends of coffee and a wide range of teas, soft drinks and hot chocolates too. Other hotcake varieties include blueberry, cinnamon, cocoa, matcha green tea flavor, cheese, ogura sweet bean, and banana to name but a few. Seasonal favorites such as fig and strawberry are also very popular. Prices range from 500 to 750 Yen, although special hotcakes can go as high as 900 Yen. Even at that price, Sanai's hotcakes are more than worth it! Each soft, fluffy hotcake is perfectly mixed before being lovingly poured onto the hotplate, and carefully tended to with the expertise that nearly 50 years experience brings with it.
The result is the perfect hotcake! The result is satisfaction guaranteed!