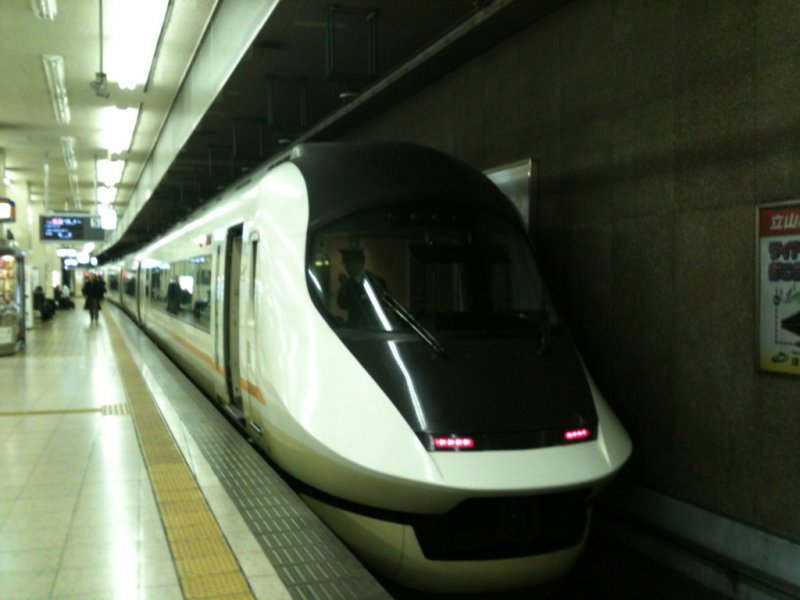 The Urban Liner
The Shima liner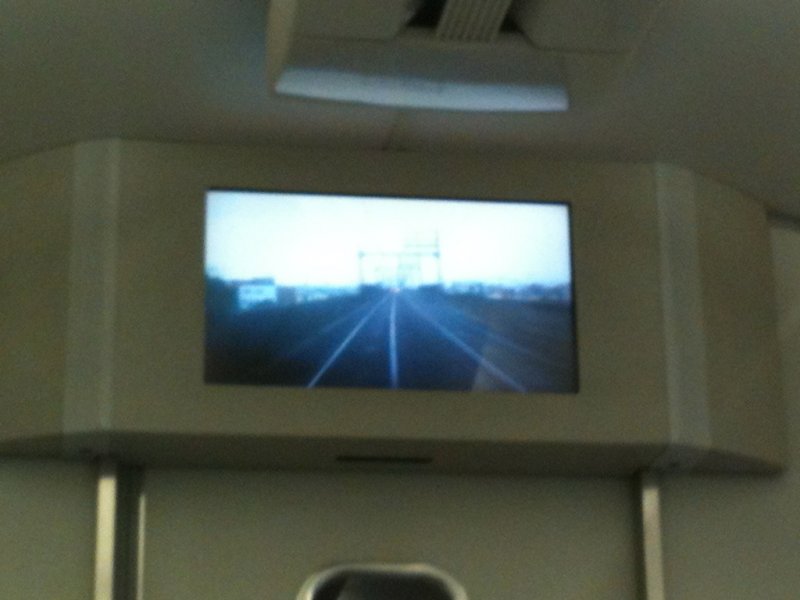 Forward View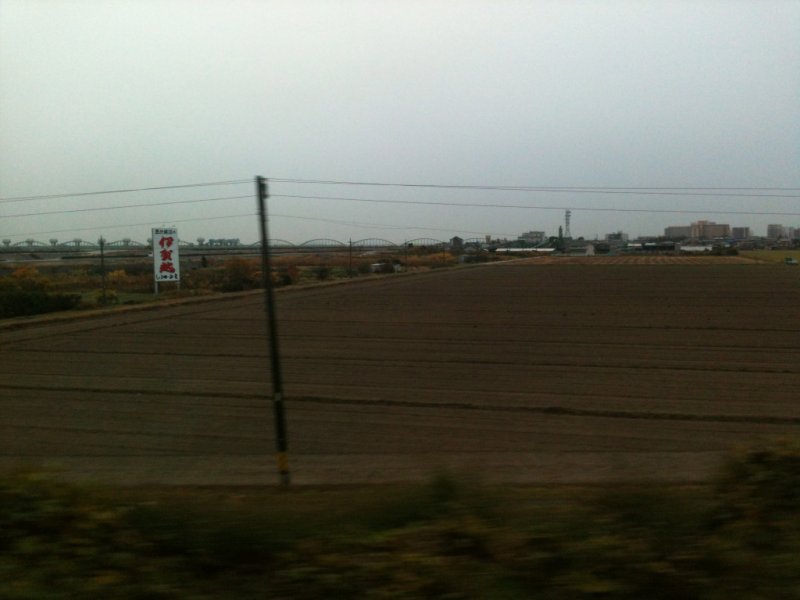 Fields on a cloudy day from the Kintetsu
interior of the Shima liner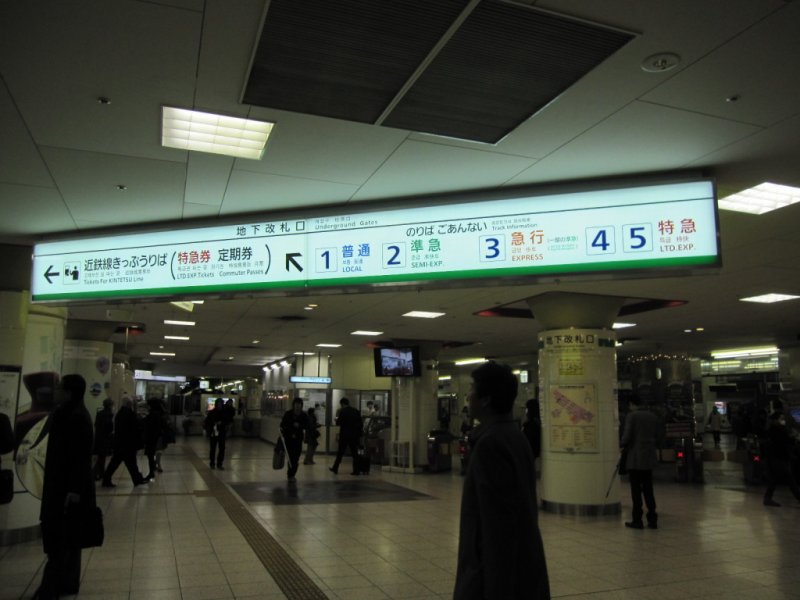 Kintetsu Nagoya station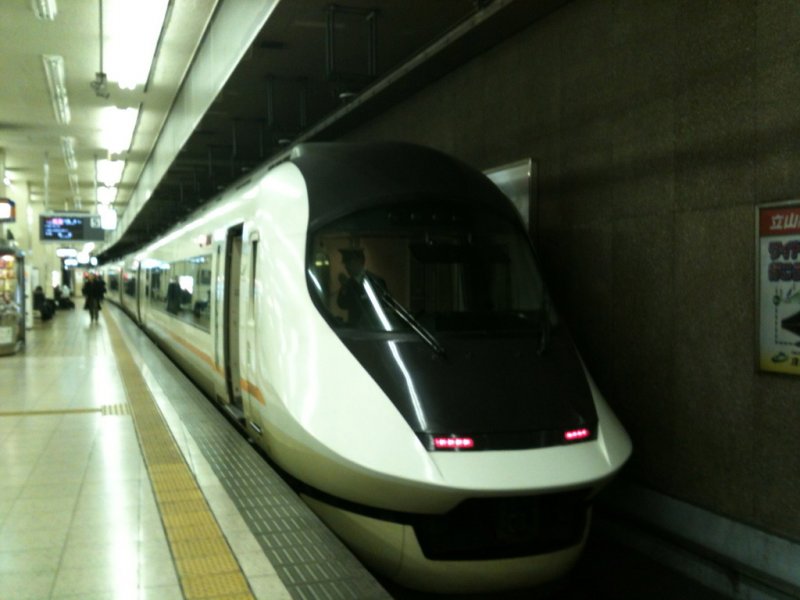 The Urban Liner
There are many private train lines in Japan. From Nagoya there is the Nagoya Rairoad (Meitetsu) and the Kinki Regional Railroad (Kintetsu), the largest non-JR railroad in Japan.
Kintetsu offers local (every station), rapid express, (pass the tiny), express (some stations) and limited express trains (large stations only) between Nagoya, Osaka, Kyoto, Nara, Tsu and Ise. The limited express is called "The Urban Liner" and offers large comfortable seats, tray tables and my favorite feature a video screen showing the driver's view out the front.
I started my journey at Kintetsu Nagoya, an underground station accessible from both Meitetsu and JR lines through underground passageways. I entered through an entrance opposite the Nagoya Marriott Hotel's ground floor station access exit.
The station was not as lit as Meitetsu's or JR's but the high vaulted ceiling seemed to quiet the bustling commuters during the rush hour. It was not clear where I could buy my ticket. I had wanted to just use an agent but since I could not find one, I had to use the ticket machines. It took a few minutes to examine the map and find my destination "Ujiyamada", the closest station to Ise Shrine. It is ¥1410 from Nagoya to Ujiyamada on a regular or express train. For the Limited Express, you would need to purchase a reserved seat ticket for an additional ¥300.
The express trains are painted red and white and are your standard commuter train with inward facing seats facing to maximize space during rush hours. The signage in Kintetsu Nagoya Station is not clear so I had to double check with the board and make sure that I was on the right platform. There were no signs above the platforms stating where the trains were going. The only signage was at the end of the track on a large board.
To make the most of your time in Ise or further down in Toba or Shima, it is best to take the early morning trains. The downside to this is that it may be packed with commuters at Nagoya but by Kuwana, seats will open up.
For the first 30 minutes, the ride is through the industrial and suburban wilds of northern Mie but after that it fluctuates between urban sprawl and farmland; crossing a river every few minutes.
Train buff trivia time! Kintetsu operates trains on three different gauges; 1435mm, 1067mm and 762mm. While in Japan is dominated by 1067mm, only the Shinkansen and Kitetsu main lines use 1435mm, the international standard. If you are not a train fan, well now you have some good railway trivia to tell your friends.
I had taken the urban liner on a trip to Shima and Toba in the fall and can say that the experience, even though on the same line of track, was different due to the forward facing seats, bigger tinted windows, vending machines and tray tables.
Within two hours of leaving Nagoya I reached Ujiyamada, an early Showa period Louis Sullivan-esque facility in need of a facelift, and was able to spend my day exploring Ise Shrine. For those going to Toba or Shima, the ride is only an additional 30 to 40 minutes providing sea hugging views.
If you want to get to Ise and the Shima peninsula from Nagoya, I recommend Kintetsu as not only the best but most fun way to go.