This one's a beauty. Riding around Okinawa in this is pure joy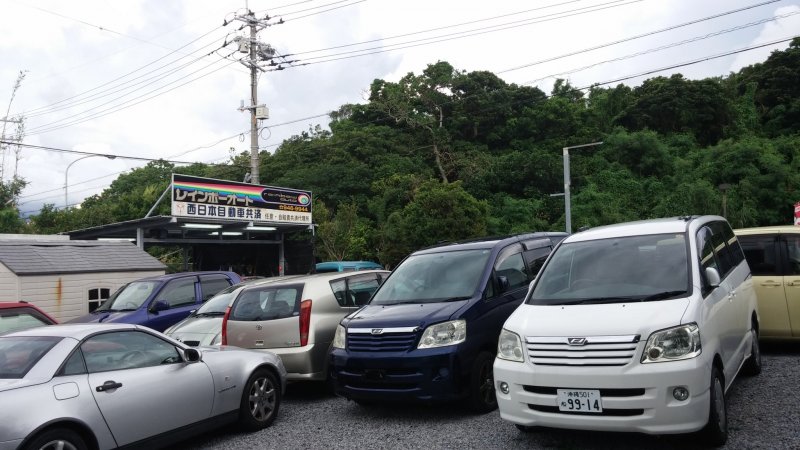 Lot view of Rainbow Renta-car, Okinawa
Lot view, front.
Need a rental car? If you are traveling to Okinawa, it would be a good idea to reserve a rental car. The transit systems here are limited to island-wide buses and a small monorail system that only runs around downtown Naha City. Unlike the rest of Japan, Okinawa has no trains or subways, the buses don't run on time, and everything is spread out across the island. I love island culture!
You don't want to show up and be stranded with no transportation, so I think a rental car is the best way to go for convenience. Rainbow Renta-Car offers very affordable cars and vans for any budget. Although I live in Okinawa, I've had to rent a van many times to accommodate taking groups of friends and business associates around the island when they were visiting. The service at Rainbow Renta-Car has been great. If you don't speak, Japanese simply call the number provided and make a reservation in English with no hassles. They offer daily, weekly and monthly plans. An economy monthly rental is only about 36,000 yen or $360 depending on the exchange rate, which is only $12 a day approximately. Can you believe that?
I live in Okinawa, and don't know of a cheaper rate here on the island. Hosoi-san is the owner, and this is a family run business, so you get that personal friendly service and support. They also have another business offering weekly and monthly mansions if you need to an affordable place to stay, offering package deals for an apartment including a car rental at one low price. They have plenty of clean and dependable cars and vans, but this is a basic car rental operation so don't expect a convertible Mercedes or Porsche on the lot for rent. The deals are great, but the lot is a bit tricky to get to, so call the number and get directions to the lot. The lot is not far from the Shuri monorail stop if you are coming from the airport. They will assist you and guide you so don't worry about getting lost. Call them for a pick up service, if needed, and reserve your rental car on Okinawa today!