An example of a pre-paid phone card.
A typical phone booth in Tokyo.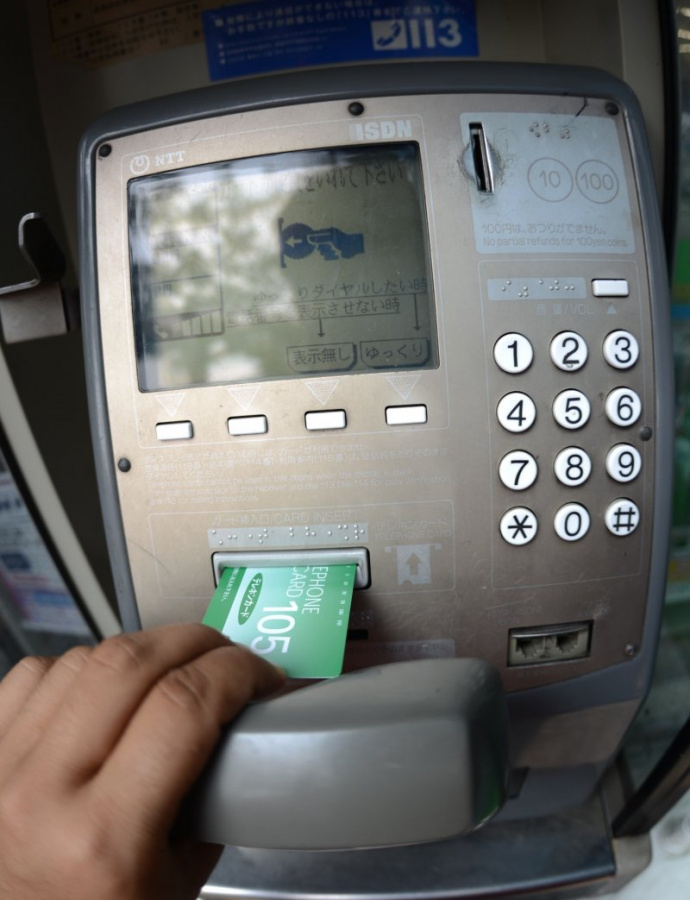 Insert a phone card into the telephone and follow the on-screen instructions.
An example of a pre-paid phone card.
Tokyo has an abundance of phone booths. You can find these booths inside metro stations, around busy street corners, and near convenience stores. It is surprisingly cheap and easy to use these booths, and if you prefer not to buy a mobile phone SIM card, or not to rent a mobile phone, you might find these phone-booths to be very useful during your stay in Tokyo.
Having the possession of coins might be difficult at all times, so you might consider buying a prepaid phone card. These phone cards can be can purchased at the airport, train station shops, convenience stores like Family Mart and Seven-Eleven, and sometimes there are vending machines near the booths that sell these cards too. These cards can be of different values like 500 yen, 1000 yen, etc.
Family Mart is one such outlet that sells these phone cards. You have to go to the storekeeper and ask for a phone card or "Tereka" and choose your desired prepaid value.
The 1000 yen card gives you a 50 yen bonus and has 105 units, which allows you to make up to 105 local calls.
Once you get a card, it is very easy to make calls. You can make local and domestic calls, and some booths also allow international phone calls. Domestic calls are 100 yen per minute and local calls within Tokyo are 10 yen per minute. To use the phone booth, you have to pick up the receiver, and then insert the card in the appropriate slot. You can then dial your number, and wait for the ring. The card is returned to you after the call; if your balance is low, the machine will warn you and ask you to insert another card or coins to continue with the call.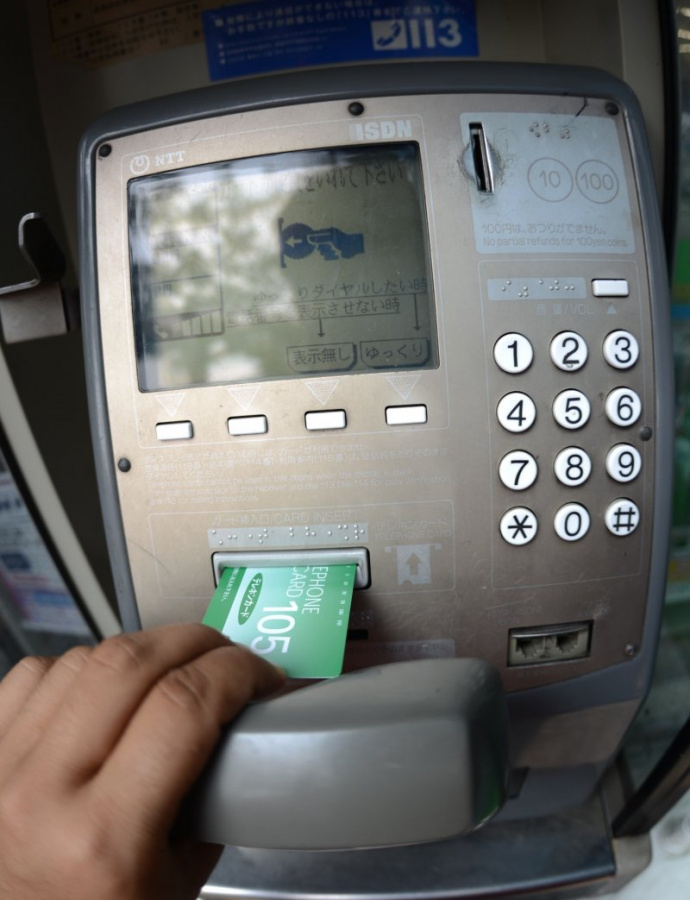 International calls can be tricky. There are 4 international telecommunications companies that you can use via select phone booths. ITJ 0041, IDJ 0061, KDD 001, or NTT 0033. You have to first dial the extension of the company you prefer to use, and then follow the instructions on the phone.
The phone card is highly recommended for emergencies, and even though it cannot fully replace the convenience of a cellular phone, you could easily survive Tokyo with a phone card in your pocket.