This big sign makes it pretty easy to spot
And here's the entrance
My coconut nan bread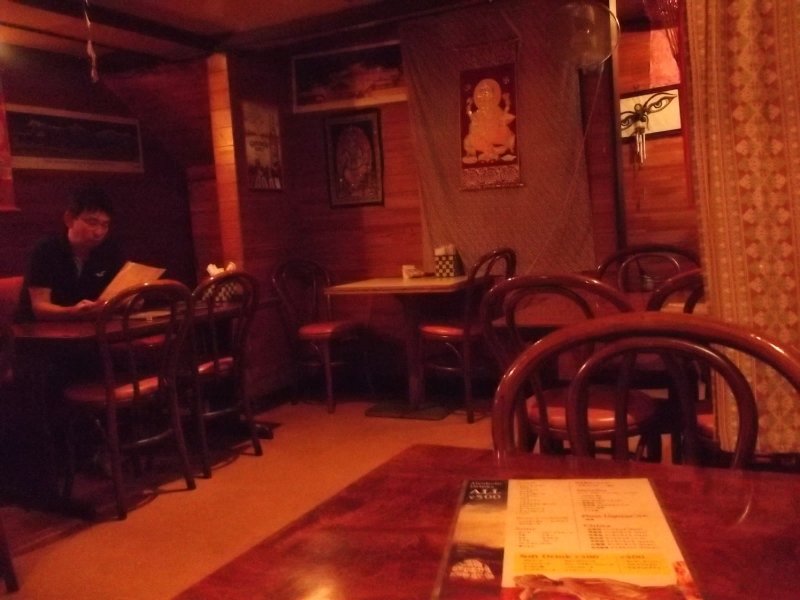 There's lots of wood, and colorful prints and hangings
One of the fun decorative prints
My lychee orange cocktail
This big sign makes it pretty easy to spot
If you're looking for somewhere to eat and drink in Hachinohe, then on the southern side of the town there's a compact little grid of streets with scores of cafes and restaurants, so many that it can be hard to choose. If you like Indian food, though, a good choice is Pokhara, on a narrow side street across from the central post office just off the main north-south road, where you can enjoy tasty and inexpensive curries in a reasonably authentic atmosphere.
The interior is enjoyably atmospheric, with dim lighting, simple wooden furnishings and warm, deep colors, but I'd have preferred Indian music to the incongruous, generic hip-hop that was playing. The tables are screened from each other by hanging drapes, which is a fun, original touch, but in another slight compromise to business, the Ganesh hangings and Buddhist prints on the walls are rubbing shoulders with posters advertising beer and Jinro, one of them featuring the ugly mugs of some Manchester United players.
I went for a hot saag (spinach) chicken and a coconut nan bread, which turned out to be a good choice. The curry was very tasty, with tender meat in a smooth, slightly sharp sauce, and much less greasy than a lot of others I've had. The texture of the nan was firm but slightly moist, a little crispy in spots, with the coconut strong enough to taste but not too much so. To drink I had a couple of lychee and orange cocktails, which were sweet and refreshing, and they hadn't skimped on the liqueur.
Despite sporting English headings, the menu is only in Japanese, but makes up for it with the broad range available, and some of the staff can speak English and help decipher. ¥500 curries include butter chicken, chicken tikka masala and keema masala, and you can choose to have them medium, hot or very hot. There are a number of vegetarian options, among them vegetable curry, dhal and saag cheese, and there's a selection of ¥600 biryani dishes such as chicken, mutton or vegetable. As well as my coconut, ¥400 nan choices include butter, cheese and tandoori paratha.
The drink menu is no less extensive, priced across the board at ¥500. There's a huge selection of cocktails, beers include Asahi, Heineken, Singha and Tsingtao, and there are also some strong, sweet Chinese liqueurs of the kind which assist the digestion, with flavors such as plum, lychee and apple. These are just the thing for sipping gently as you wind down after your meal, before you head home contented and full.