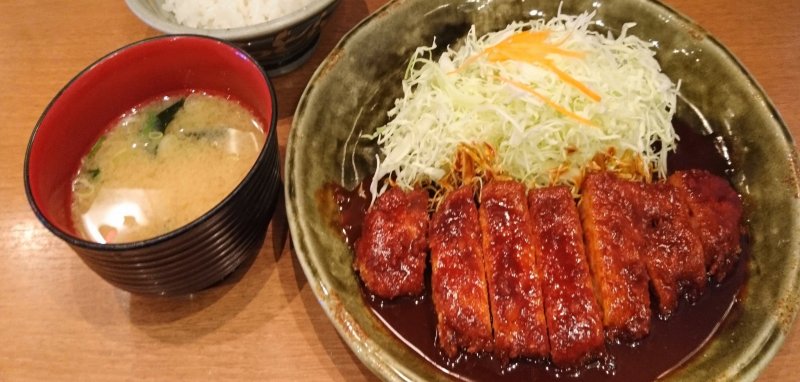 Misokatsu Yabaton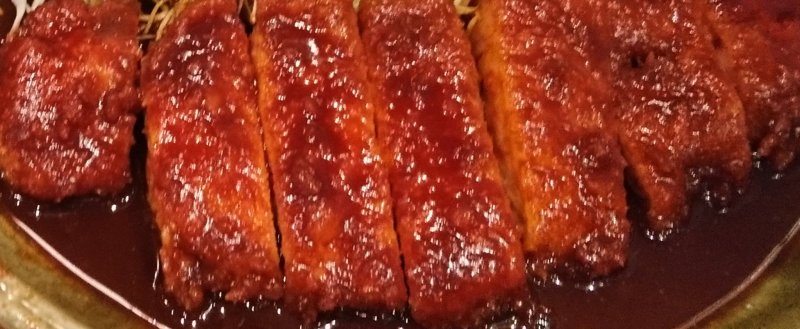 Misokatsu Yabaton
Misokatsu set meal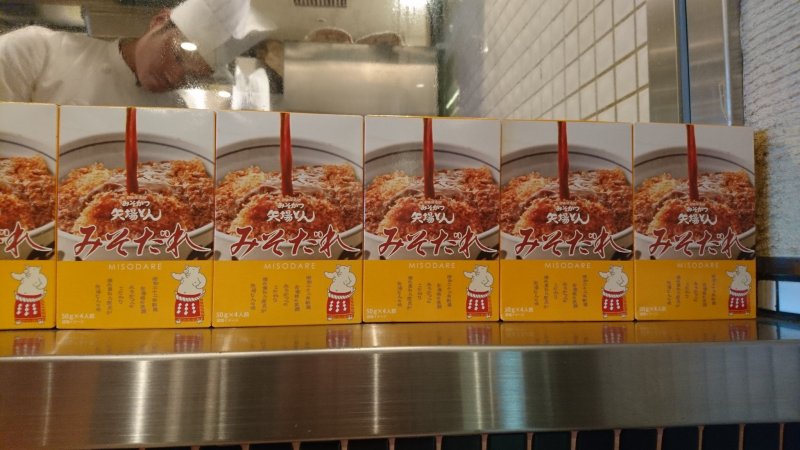 Miso sauce for takeaways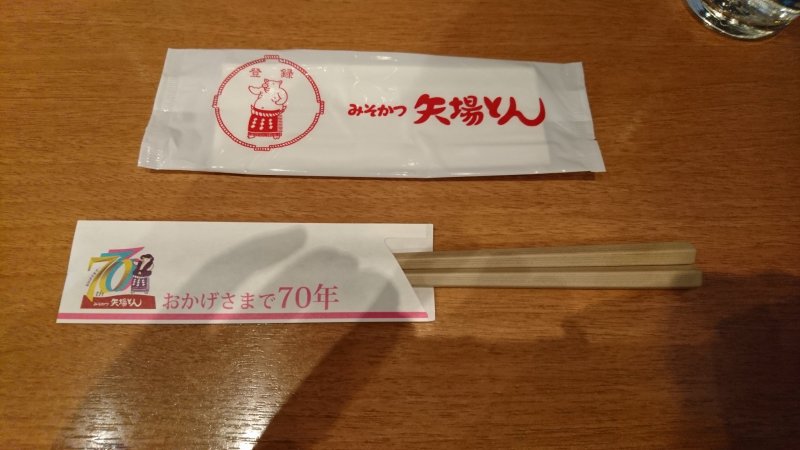 The pig mascot is cute
The shop front
One of Nagoya's food specialities is miso katsu (pork cutlet with thick miso sauce). There are many shops in Nagoya, and one of the popular ones is Misokatsu Yabaton, which was first established in 1947. What is special here is the red miso sauce, made from natural soybeans, and fermented for eighteen months. Every day, the miso is freshly prepared by hand, and this is one of Yabaton's secrets to the miso sauce being rich in flavor.
The main meat here is deep-fried pork, although there are others like fried prawns, fried crab meat, or fried vegetables. The carefully selected, quality pork comes from Southern Kyushu. There are a few ways for the deep-fried pork to be served, on a hot plate with cabbage, on skewers, in a bowl of rice, or just on its own, with the rice served serparately. The set meal comes with refillable rice and miso soup.
Yabaton also offers a higher quality type of pork, from Kagoshima. The pigs here reared have a lower fat content due to the sweet potatoes they eat, which is frequently found throughout the prefecture. This menu is only limited to five stores, namely the Yaba-machi main store, Sakae Lachic store, Nagoya station Meitetsu store, Chubu international airport store, and the Tokyo Ginza store. Due to its limited quantities, the deep-fried black pork version sells out fast.
Bread crumbs are important in deep-fried food, as it greatly influences the texture of the surface of the meat. Yabaton blends fine bread crumbs and dried bread crumbs together, to produce a delicious pork cutlets, crispy on the outside, soft and tender in the inside.
Don't be surprised when your meal arrives without the miso sauce. The staff will pour the delicious miso sauce onto the deep-fried pork in front of you, and you can watch the sauce slowly ooze into the pork. If eating at the restaurant is not enough, Yabaton sells takeaways or even just the miso sauce on its own.
The Yabaton Sakae Lachic branch is on the 7th floor of the Lachic shopping mall, a five minute walk from Sakae subway station.