The shop front with the big signboard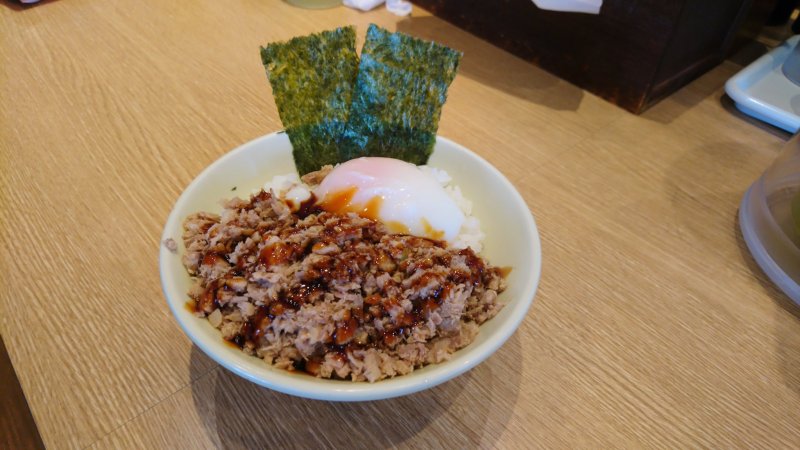 Side dish of rice with pork
Ramen
All the variations of noodles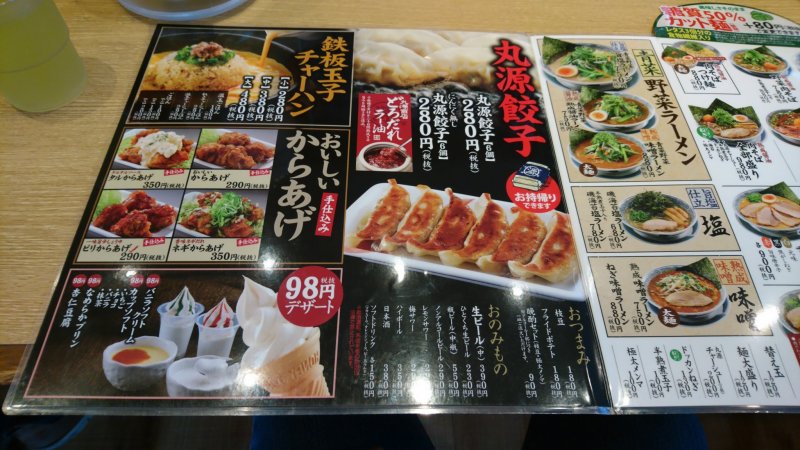 Side dishes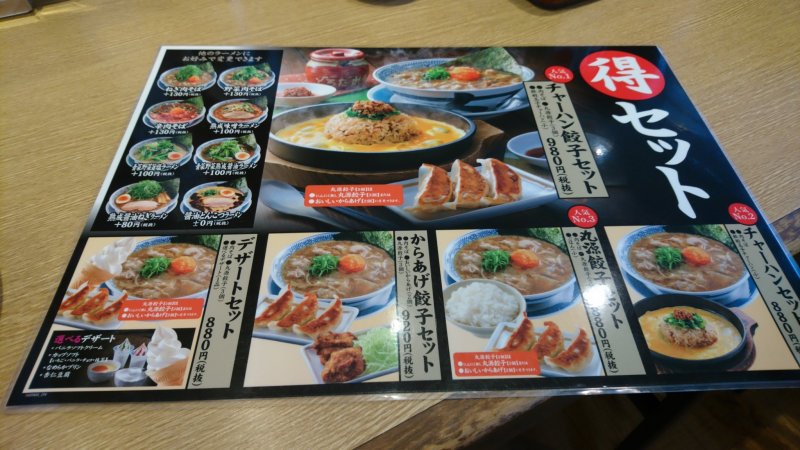 Set menu
Walking along the main road in search for some hot food on a cold morning, I spotted a huge signboard with a picture of a huge bowl of ramen with lots of spring onions. There were also the words "fermented soy sauce". Intrigued, I stopped, and there was a short queue just outside the restaurant. It was just slightly before 11 am and the shop has yet to open, and there were already a few groups waiting at the entrance, mainly families with young children. Since I was hungry, I joined the queue which quickly disappeared after the restaurant opened its doors for the day.
Marugen Ramen is a ramen chain found mainly on Honshu, Japan's main island and home to most of the country's major cities and cultural sites. There are also a few outlets in Shikoku, Japan's smallest island. The speciality here is the feremented soy sauce. Three types of soy sauce are blended together, including soy sauce from Chiba and Okayama prefectures. Chicken and pork are added to the mixture, and slowly simmered. More than twenty kinds of ingredients are then mixed in, including vegetables and bonito. It is then cooled and allowed to age for fifteen days.
The soup used in Marugen is boiled from a mixture of pork bones and chicken breast meat. The collagen in the meat is boiled together, and this tempers the soup's saltiness. As a result, a gelatin-like substance can sometimes be seen. Close attention is paid to the amount of ingredients, water, and heat, which gives the soup its flavor.
The menu has a picture for every item, which makes ordering easy. There are soba or ramen noodles to choose from, with variations in soup base, spiciness, meat and vegetables. Each bowl of noodles will cost you between ¥650 and ¥1000. Side dishes include gyoza dumplings, fried rice, fried chicken, as well as ice cream for desserts. Set meals are also available for less than 1000 yen.
The restaurant is a 15 minutes walk from JR Okazaki station.