A selection of the rustic pastries that they have on offer at Maison Kayser
Some of the rustic French breads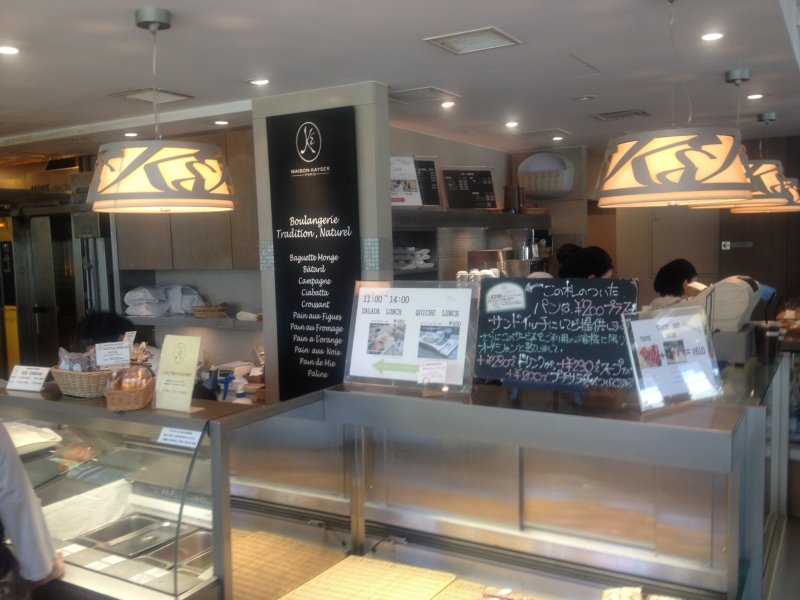 The interior of Maison Kayser
Just look for this sign and you are in the right place
The main entrance
A delicious sandwich that I bought at Maison Kayser
A selection of the rustic pastries that they have on offer at Maison Kayser
When venturing into a Japanese supermarket or bakery, you may feel disappointed by the selection of bread and pastries they have on offer. However, not all bakeries are created equal: Maison Kayser offers a wide selection of freshly made breads, pastries, and sandwiches with a French flair.
When you visit their main Nagoya store in Ikeshita, about ten minutes' walk from Ikeshita station on the Higashiyama subway line, the scent of freshly made bread will take over your senses. Then, your eyes will be transfixed by the various creations that they have on offer. Maison Kayser offers your French bakery mainstays such as baguettes, batards, and thick loaves of white bread; and in addition to the thick, crusty French breads that they have for sale, they sell a variety of seasonal pastries and sandwiches.
During the spring and summer seasons, expect to find a plethora of fruit-filled pastries, while heartier offerings like chestnuts, nuts, and figs are present during the fall and winter seasons. Pastries will cost from around ¥170 to upwards of ¥400, while baguettes and batards are around ¥250 to ¥350, and you can choose whole loaves or pre-sliced versions. If you have a hankering for thick sliced French-style sandwiches filled with fresh ingredients, Maison Kayser should be a definite port of call for you. Their sandwiches are about ¥400 to ¥500.
If you're looking for a reasonable brunch or lunch, you should check out Maison Kayser for their lunch sets, with either a sandwich or a thick slice of homemade quiche. The set also includes a drink, a small salad, and soup, and runs around ¥900. The dining space at Maison Kayser is bright and relaxing. Bring a book to read, or a good friend to talk with, and just unwind.
Besides the main branch in Ikeshita, Maison Kayser has a smaller outlet in the second floor basement of the Takashimaya Department Store at JR Nagoya Station. Before traveling on a long trip, or if you're looking for something to take home, check out this store. They have a smaller selection of items than their main branch in Ikeshita, but the quality is still the same. They also offer some sandwiches, quiches, and even desserts besides their regular breads and pastries.