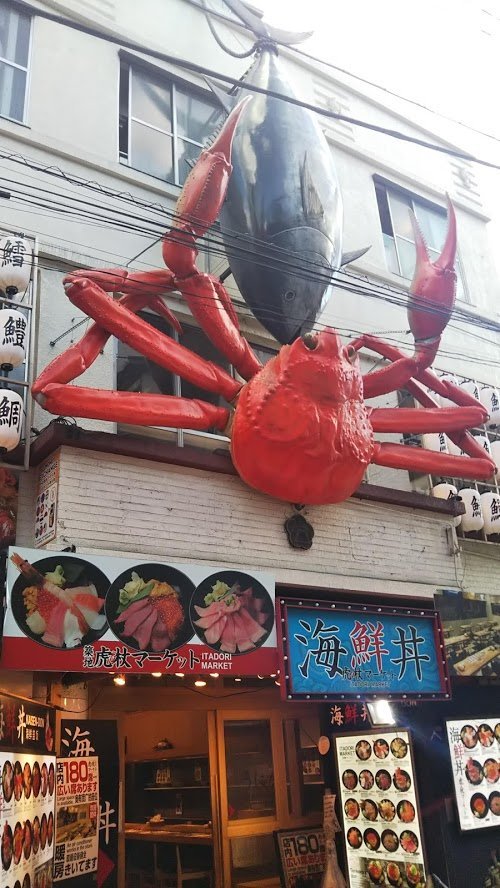 Well known Tsukiji crab.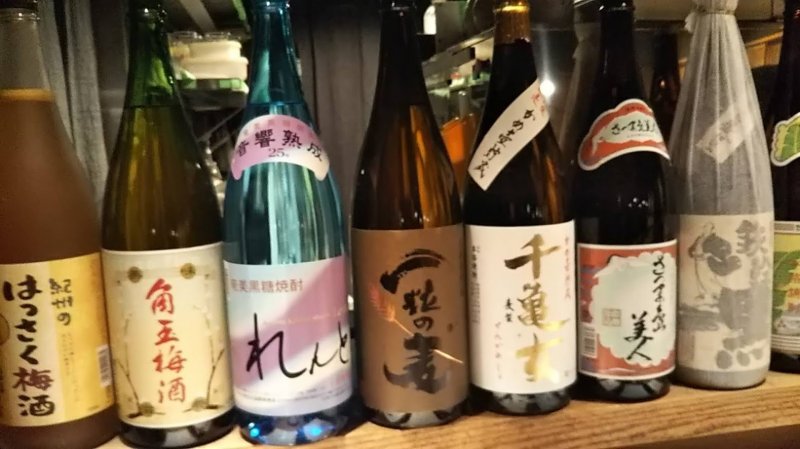 Variety of sake.
Salmon bowl.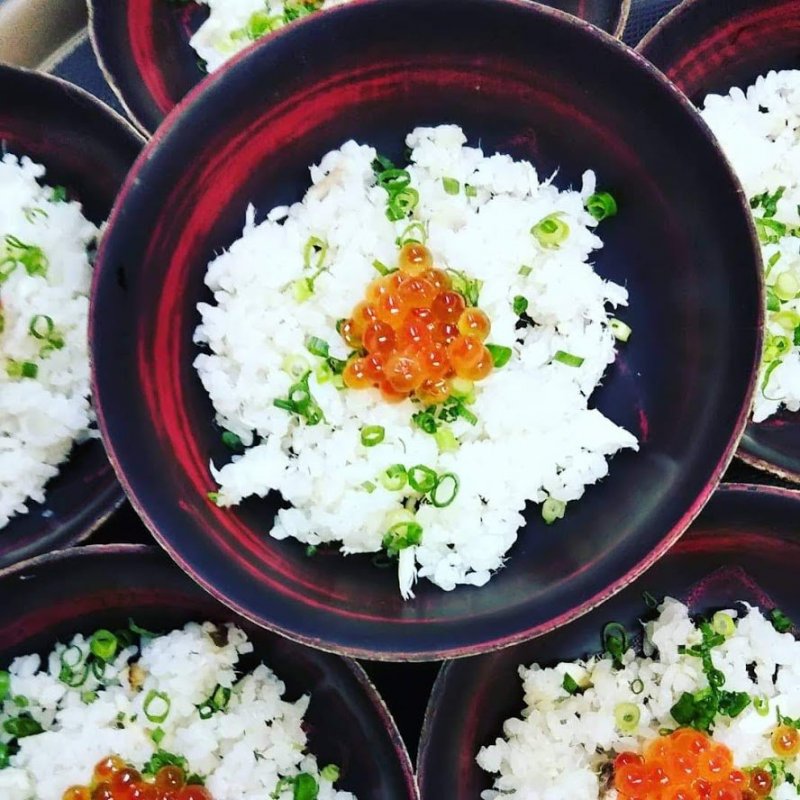 Fish eggs and rice.
Fish fried.
Fish Head.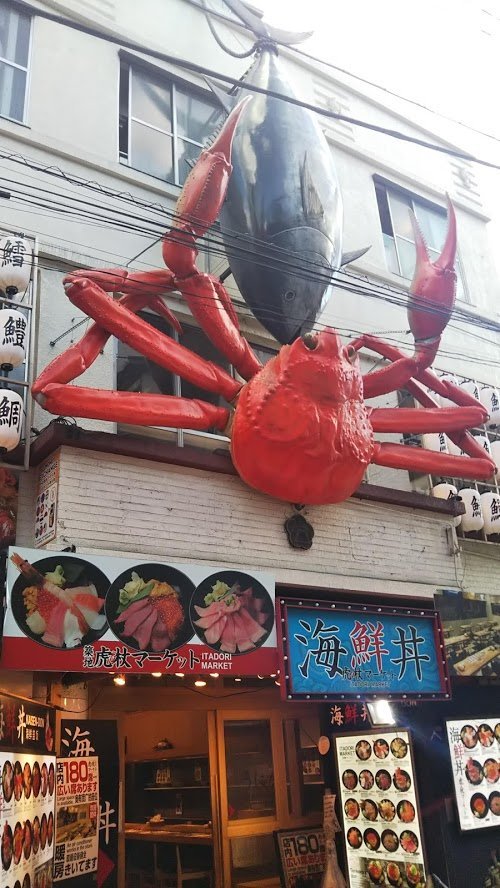 Well known Tsukiji crab.
Kashigashira is located in the Tsukiji fish market district of Tokyo. The Tsukiji fish market was first opened on February 11th, 1935 and was the is the largest wholesale fish and seafood market in the world. However, on October 6th of 2018 the fish market was moved to Toyosu Market, which is about 1.5 miles away. Here you can experience what it's like for people who work in the seafood industry every day, an important part of Japanese culture.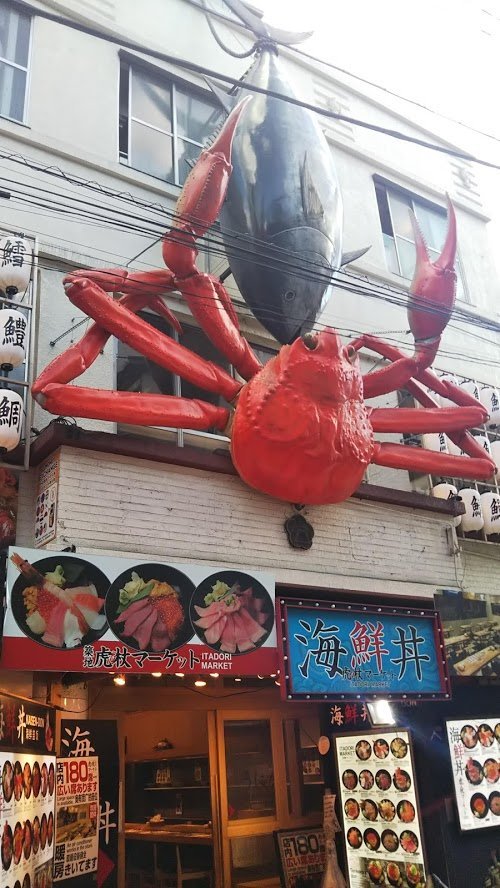 Now I will introduce someone to you. Mr. Hashimoto! Mr. Hashimoto was originally working for the Tsukiji fish market. He is now the owner of Kashigashira. He had many connections and gained valuable friendships while working in the market so he is able to buy the freshest and best that the markets have to offer. The most important thing in the Tsukiji fish market is to gain human relationships.
One other respectable character; amongst many others, I would like to introduce is Mr. Noguchi. Mr. Noguchi was kind enough to tell me a little bit more about his experience and work-life with Kashigashira. He started working here from 2012. He has valuable leadership skills and is very knowledgeable in the traditional way of making Japanese food. He has recommended the best way to eat in a traditional manner. He believes when you eat a dish, sake should also be involved. It helps add flavor to your meal and helps you enjoy it to the fullest extent. Sake is made all over Japan, but the taste is different depending on the region and sake brewery. Lovers of sake have their own tastes and styles of drinking, however, there is a traditional way of drinking sake. I personally was able to learn this traditional way while working at Kashigashira from Mr. Noguchi himself. There are a receiver and a pourer as well as a specific set of manners, and customs you must follow.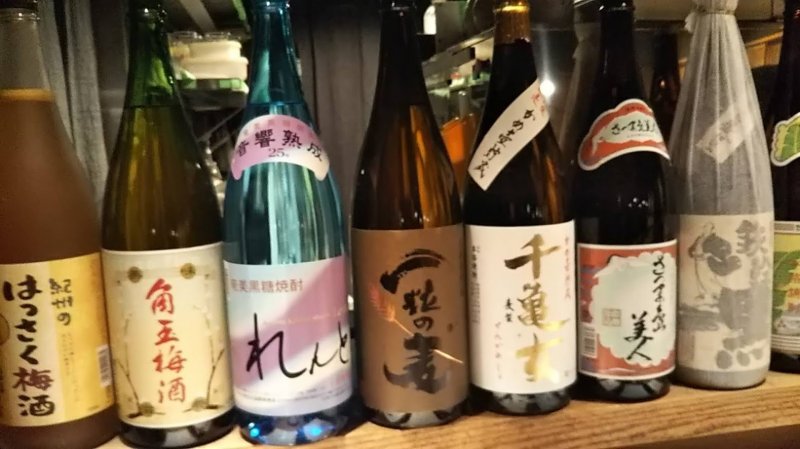 Amongst all the different types of sake, Mr. Noguchi likes to enjoy "Gohashi", made in Yamaguchi Prefecture. Yamaguchi is the prefecture where Mr. Noguchi's father-in-law lives, so he visits often. It is a very beautiful place surrounded by sea and mountains. Rice brewing is popular as well as the scenery of Yamaguchi. Mr. Noguchi believes that "food with culture is what makes you feel the most when traveling foreign lands. So when you come to Japan, please enjoy fish and sake in Tsukiji. Once you taste delicious fish and sake, you will be captivated." Sake prices range from ¥800 to ¥1,200 per glass. You can also order a beer or soft drinks here as well.
Now let me go ahead and tell you about more of the pricing and the system of the restaurant. First of all, you don't need a reservation for any party of 1-2 people. However, anybody with a party over 3 should call and ask for a reservation. The restaurant is popular and is usually pretty lively. They have a rating of 4.0 on Google with 387 reviews. During lunchtime, they serve an assorted array of seafood bowls. One particular example is the Tuna sushi bowl that costs ¥1,500. It is a rice bowl full of tuna, red meat, suke, nigitoro, and tsutsu, which are purchased from well-established luxury tuna wholesalers. Most bowls will average this price. During dinner time, usually, because it is mainly taken up by reservations, they have a set course set in place for customers who have reserved their table ahead of time. The dinner course for 1 person is ¥3,500. With the dinner set, you receive a full course meal. Appetizers, sushi, and the main course, etc., and then to finish it off they always end with some rice which is usually flavored with fish eggs and green onions. The course is a variant that usually changes daily or every other day. Most often they serve roasted fish heads, tuna jaw bone, which is actually really large and quite tasty as well.
The best part about working here was the staff meal you received every day. They always surprised me with a variety of amazing foods to try, however, my most favorite to eat was the Salmon rice bowl. It's salmon sashimi slices placed on top of rice, with ginger, fish eggs, and wasabi. There are often eggs in the rice as well as green onions. If you top it off with some soy sauce it becomes absolutely delicious!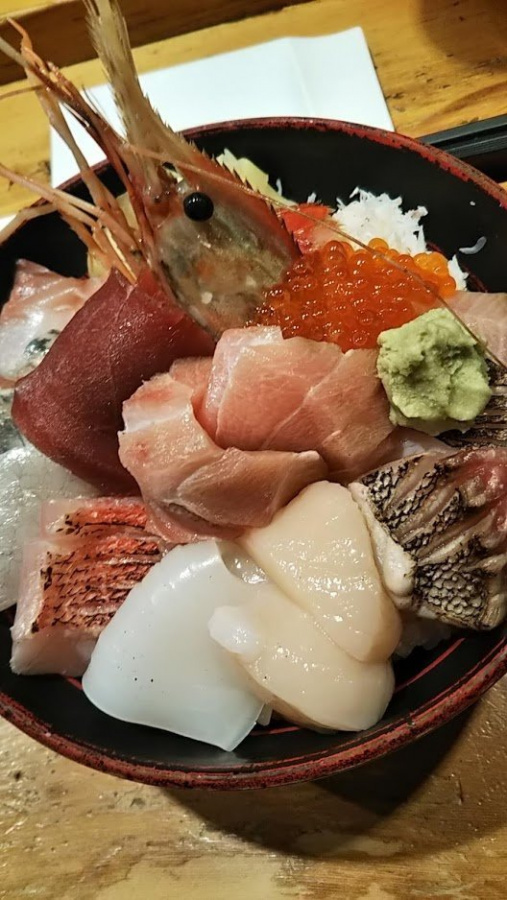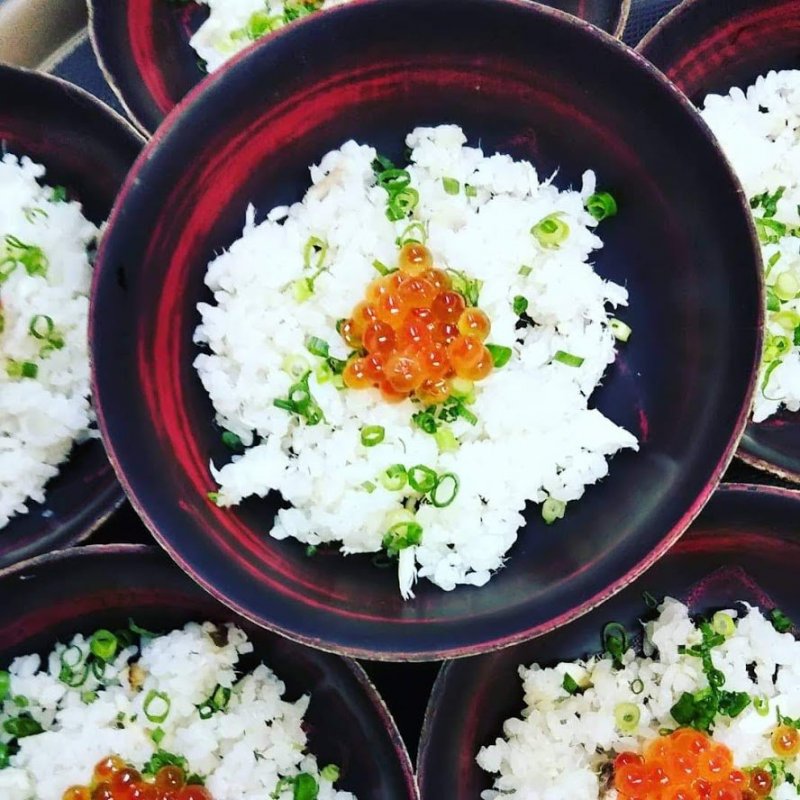 When you go to Kashigashira you will notice how everybody usually comes in, often as a business party meeting, or tourists, and how often they open up to you after they start drinking and eating. They will tell you about how delicious the food is, and what great sake recommendations you can offer them. The restaurant often turns into a bit of a party. Since everyone is enjoying their time, they usually become more comfortable, and even start to ask you who you are and where you're from and end up wanting to be your friend. Usually, you would end the work shift with a business card and a new friend. Side-note: Things can get pretty loud.
I want to personally thank everybody from the Kashigashira family for lending me your time and willingness to teach me about traditional Japanese values, customs, and culture. I can say I felt truly at home here away from home. I was blessed with a new family in a foreign land, that accepted me for me, and for that, I can never be more grateful. If you have the opportunity to work in Japan, you as well will be blessed.
Hours
Monday to Saturday: 11:00 – 15:00 and 18:00 – 23:00
Sunday: From 11:00 – 20:00
A short walk from Tsukiji Shijo Station (exit A1). The restaurant is in the basement.