Yum!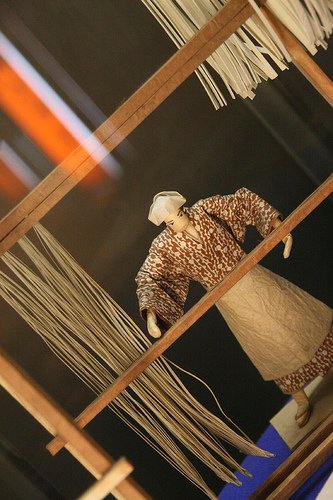 Inaniwa Factory
cooked over charcoal stove
For noodle lovers, I bet the first dish you would try in Japan would be Sanuki udon, Shinshu soba, Sapporo Ramen or Hakata Tonkotsu Ramen.
Most people would pick one of these four. What else? Nagasaki chanpon, Nagoya kishimen or Yokote Yakisoba. I am sure there are quite a few that could make the noodles hall of fame.
So today let me introduce you to one of the hidden treasures for noodle lovers if you have not experienced it yet. It is called Inaniwa Udon.
It is really difficult to describe but I would say it is a bit similar to Vietnamese Pho. It is also narrower than pho and a bit more angular. I know some people think that udon is flat, like white bread. It may not have the savoury kick of ramen, but if you have eaten boring udon, maybe you haven't been to somewhere really good. Like good bread you have to find a great place. Udon has that delicate taste that is the hallmark of many Japanese foods. This place is one of the best, with every udon being hand made to a secret and tightly controlled recipe.
What's more with this dish, it is accompanied with soup made of Hinaijidori, the special stock that makes kiritanpo superb. The soup has a very light yet deep and long lasting flavor. Pair it with a nice glass of chilled sake, it is wonderful.
Sato Yosuke Shoten is the place you should visit if you like to taste this. Here you don't just get to eat the noodles but you can learn all about Inaniwa udon and experience how to make it.
This noodle factory has been here since 1860 so that's over 150 years of refinement and love that goes into making every strand of udon. Based on a recipe from 1665, this was first made in a little cottage, and until the modern era, had limited availability outside the Imperial family. The current owner is a descendant of the 2nd Sato Yosuke.
It is located in Yuzawa city, so this must be the original place of Inaniwa udon. The free sightseeing tour takes about 15 minutes, and the factory is open to the public from 9:00 am to 4:00 pm. Please note that from Dec to April, when much of Akita is covered with snow, it is closed on Sundays and public holidays. Additionally the place is a long distance from the city, so it is best if you come here by car. If you don't, don't despair!
The funny thing was, I managed to find Inaniwa Soba the other day in Tokyo. Just five minutes walk from the glitz in Ginza down a side street, there is a little restaurant with the same name, Sato Yosuke, 6-4-17 Ginza, Chuo-ku. And just like the one in Akita, this udon is flat and thin, just like pho, with a fantastic bite to it.