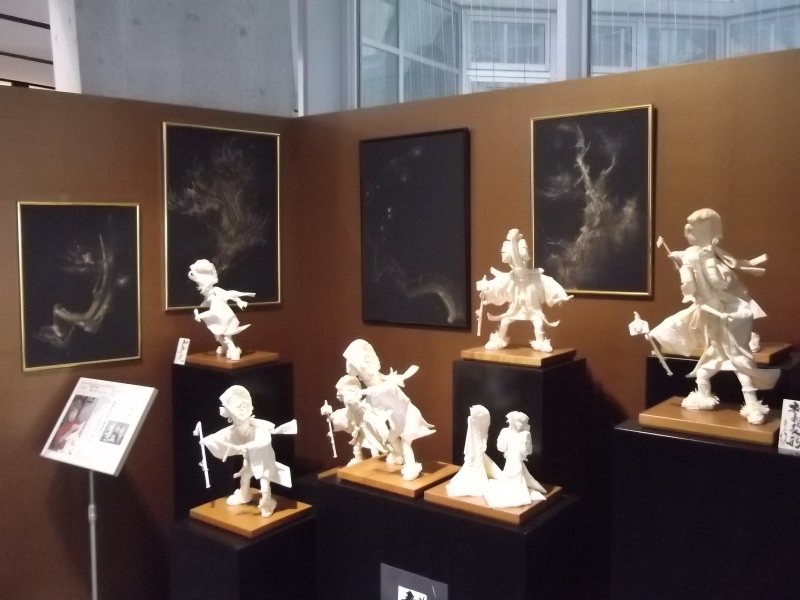 Local carved statues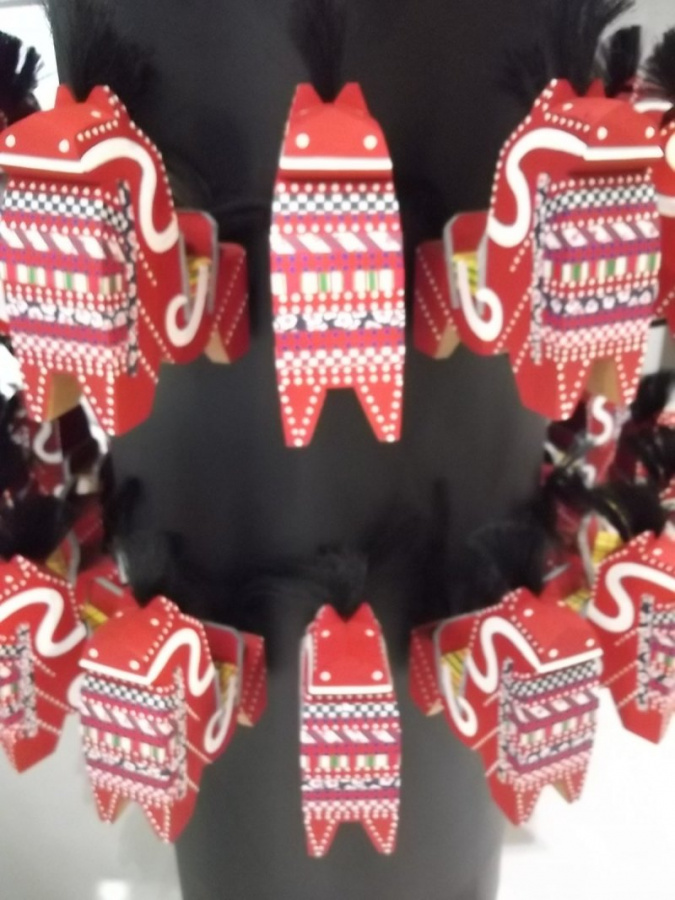 Colorful Yataka-uma horses greet you at the entrance
The 'Creative tatami space'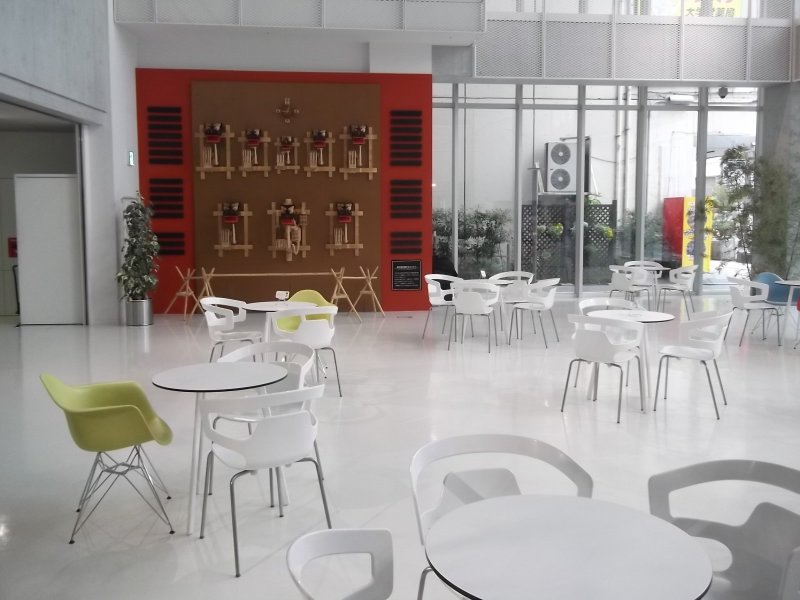 Hacchi square (during school hours, before the students take over)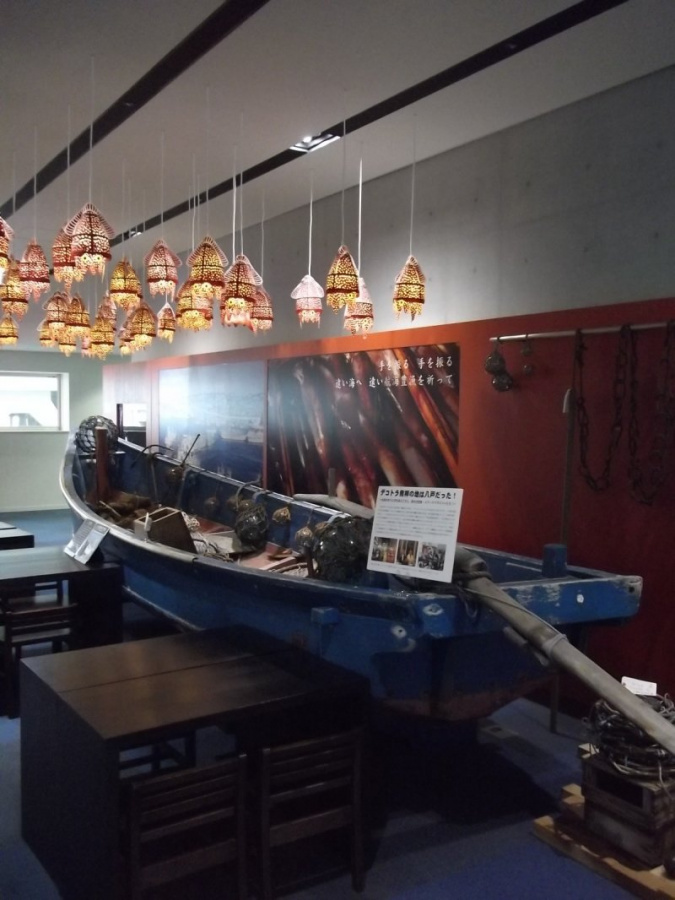 A traditional fishing boat, with cute lamps overhead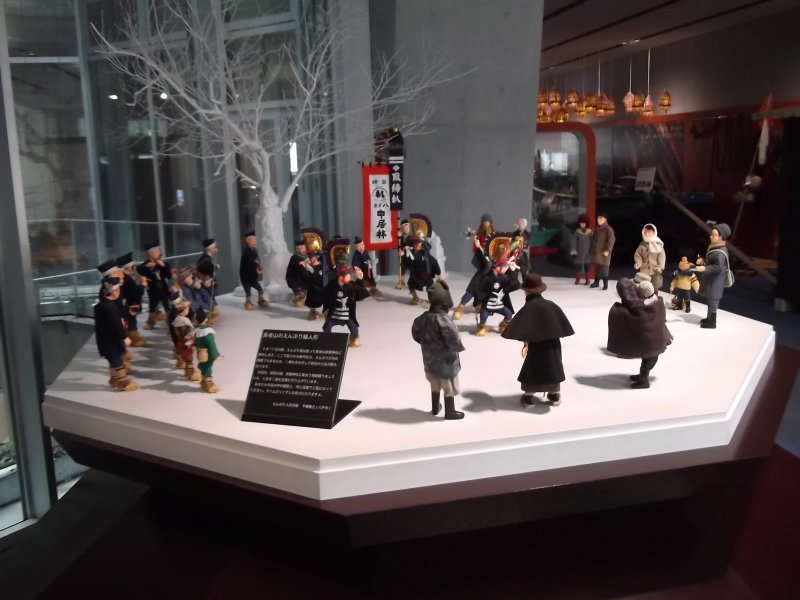 A little diorama of one of the local festivals
Every city should have a place like Hacchi. Slap in the middle of Hachinohe, it's a one-stop center for information about local attractions, culture, crafts and traditions, innovatively presented in a spacious open-plan setting. And while much of the information is only in Japanese, the displays still give a comprehensive overview of what the region has to offer.
Walking in through the front entrance, you're greeted by phalanxes of colorful Yawata-uma, the wooden horses that are the city's symbol. Ahead of you is the information counter, which has some English leaflets about the region's sights, and to the right is 'Hacchi Square', an open area with tables and chairs for visitors to sit at and relax (or, for much of the day, for local schoolchildren to study at). To the left there's a store with a range of local goods on offer, including cards, glassware, toys and liqueurs, and there are other retail spaces available for rent to craftsmen; at the time of my visit there were stands selling kimono, yukata and fabrics.
The upper floors are home to a variety of exhibition spaces: there are panels with what I assume are biographies of local worthies, all in Japanese, but with evocative period photographs; display cases showing off local crafts, such as miniature food models that might be found outside toy restaurants; a diorama and video of the town's lively festivals; and a full sized row boat, lit from above by dozens of cute octopus lanterns.
You're well served for shopping here too: there are stores selling apple products and local snacks such as flavored rice crackers, a branch of Very Berry for juice and sweeties, and up on the fourth floor there are a cluster of small rental kiosks where craftsmen sell their wares, among them stylish bags and funky colorful handmade candles.
If you're bringing the kids, there's a large play area on the fourth floor, where you can leave the little ones to frolic while you browse. Something everyone can enjoy are the delightful wooden toys outside the play area, where you can turn the handles to set carved animals to typing and playing instruments. For something more sedate, down on the third floor there's a large tatami studio, where I saw a woman practicing yoga stretches.
More than just an information center, then, Hacchi is a destination in its own right, a place to learn about the area, buy some souvenirs, then rest to admire your purchases or plan your sightseeing.