Sakura Dori line subway.
The new Sakara Dori subway tunnel.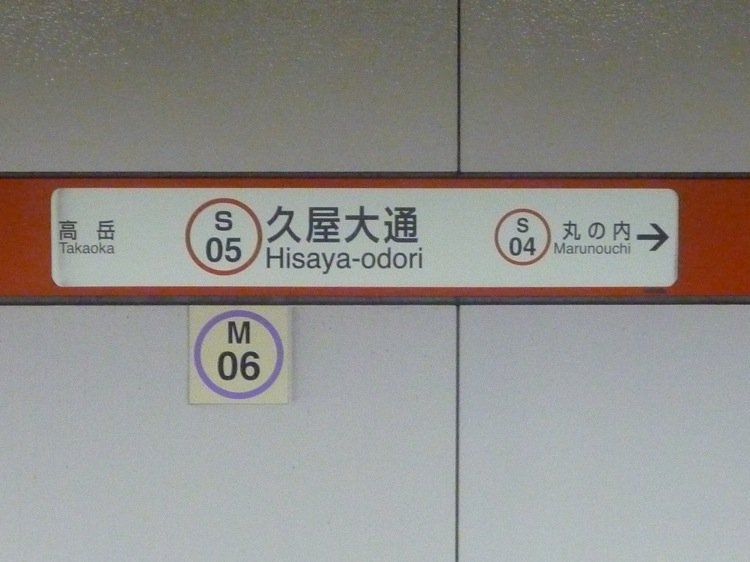 Red denotes the Sakura Dori line, with station name and number included
Sakura Dori line subway. (Photo: PPF)
Running 19.1 Kilometers under and across the city of Nagoya is the Nagoya City Rapid Line number six, better known as the Sakura Dori subway line, part of the Nagoya Municipal Subway system. Sakura Dori line opened it's first section in 1989, directly under the east-west running Sakura Dori Avenue between Nagoya Station and Imaike.
The line, marked red on maps, runs from Nakamura Kuyakusho in Nakamura Ward, to Tokushige in Midori Ward, stopping at some 21 stations. Services commence at 5:30am, with the last trains running around 11:55pm, depending on your station.
1,067 millimeter gauge rapid transit overhead electric 6000 series and the newer 6500 series rolling stock are employed to provide a smooth and comfortable ride. Each trainset consists of five cars with a capacity for 713 people, 243 seated. Top speed on the line is 75 Kilometers per hour. The Sakura Dori line is the only subway system in Nagoya to use ATO, (Automatic Train Operation) which ensures partial or complete automatic train piloting and driverless functions, however the Sakura Dori line still maintains drivers for additional safety.
Being double tracked means that stations are all single platform, with only the right hand doors being used. This adds to the ease and convenience of riding the Sakura Dori line.
Since 2004, the city changed subway signage to show a station name, followed by a single letter denoting the line, and a number. For the Sakura Dori line, the letter is S.
The stations run:
S-01 Nakamura Kuyakusho
S-02 Nagoya, (Connects to the JR Chuo Main Line, Kansai Main
Line, Tokaido Main Line, Tokaido Shinkansen.
Kintestu Nagoya Line, Meitetsu Nagoya Line,
Aonami Line and Higashiyama Subway Line)
S-03 Kokusai Center
S-04 Marunouchi (Connects to the Tsurumai Line)
S-05 Hisaya Odori, (Connects to the Meijo Line)
S-06 Takaoka
S-07 Kurumamichi
S-08 Imaike (Connects to the Higashiyama Line)
S-09 Fukiage
S-10 Gokiso (Connects to the Tsurumai Line)
S-11 Sakurayama
S-12 Mizuho Kuyakusho
S-13 Mizuho Undojo Nishi
S-14 Aratama Bashi (Connects to the Meijo Line)
S-15 Sakura Honmachi
S-16 Tsurusato
S-17 Nonami
S-18 Naruko Kita
S-19 Aioiyama
S-20 Kamisawa
S-21 Tokushige.
Plans are currently underway to extend the line from Nakamura Kuyakusho, west to Shippo in the near future, and east to Toyoake or even Toyota City.
Prices of all subway tickets start from 200 Yen, the most expensive ticket prices in Japan, but the extensive network of lines makes traversing Nagoya easy. A new fare card, called Manaca and useable on all Nagoya subway lines has bee introduced. Manaca, taken from the Japanese word mannaka, meaning "central" due to Nagoya's central Japan positioning, is a rechargeable, non-contact smart card. The cards are available at ticket vending machines at all city and Meitetsu bus, train and subway stations.
The Sakaura Dori Line is an affordable, comfortable and simple to navigate transportation system that will improve mobility and your enjoyment of Nagoya.