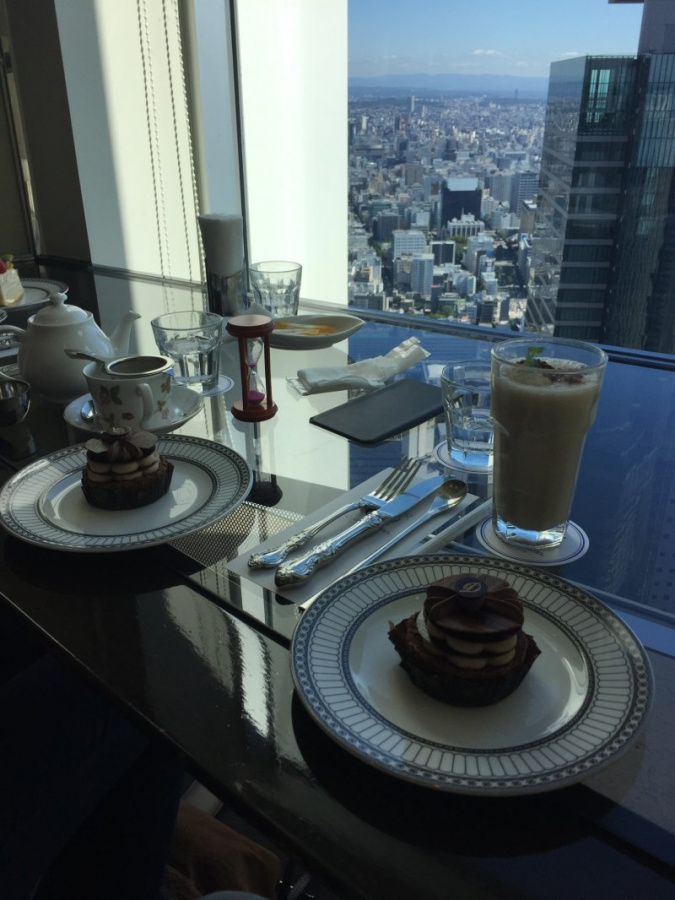 Enjoy your food and drinks with an awesome view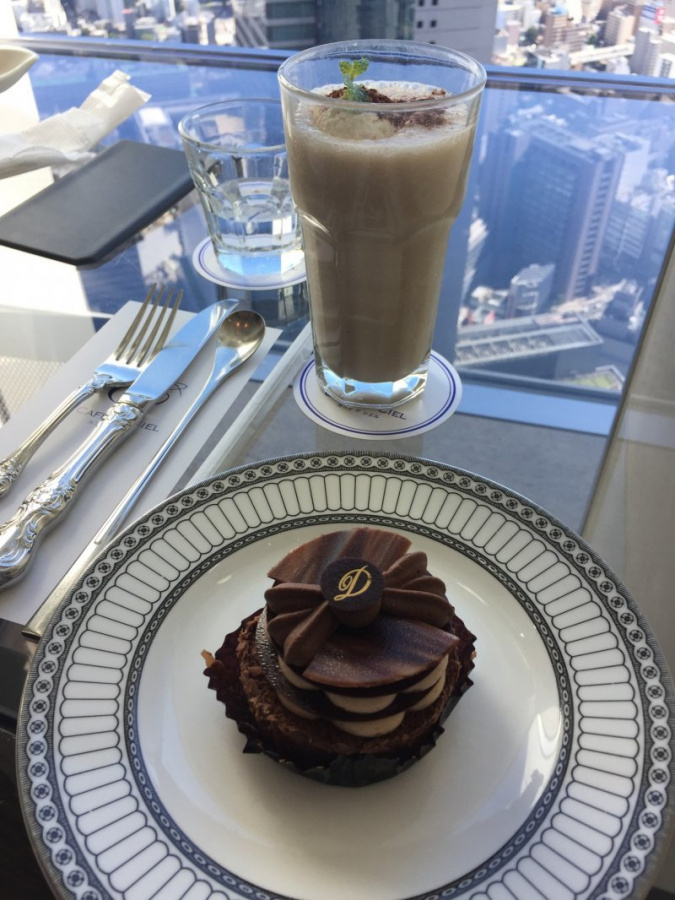 Chocolate cake and banana milkshake
Example of view from the Café
Enjoy your food and drinks with an awesome view
Nagoya TV Tower is not the only place to observe the city. Indeed, in Nagoya Station on the 51st floor of one of the JR Towers, you can find Café Du Ciel, a small café-restaurant with a great view of the city.
In this place you can observe the view of Nagoya and enjoy at the same time delicious cakes, Belgian waffles, sandwiches, teas, coffees or milkshakes. You will have an awesome view of Nagoya during the day, as well as in the evening if you wish to observe the lights.
As this eatery is open from 10:00 am to 22:00 pm (last order at 21:30), you can go there for a late breakfast, a lunch or just to enjoy the sweets that compose the biggest part of the menu.
Of course, given the view, the price of the food is higher than a typical café or restaurant. Count on between ¥1000 and ¥2000 depending on what you want to eat and drink (cakes and teas prices start at ¥500) but rest-assured, the quality of the food is good, as well as the service, and the chairs are really comfortable.
I advise you to go there during a sunny day to enjoy the view but arm yourself with patience. Due to the superb location and the quality of the food, it is a very popular spot, so expect queues, especially during the weekends and in good weather.
In my opinion this café is a really nice place to go try Nagoya, where you will enjoy the view in a peaceful environment. If I had to describe this place in three words I would say "Classy, tasty and beautiful" !
One question remains: How to get there?
Even though the café is close to Nagoya Station, it can be quite difficult to find. Here is some advice to help you:
First, head to Towers Dining Mall in Nagoya Station (you can access this tower through JR Takashimaya)
Once in this building, go up to the 12th floor where you will have to take a specific elevator that will take you at the 51st floor
Once you get out of the elevator you will easily find Café Du Ciel