Croissants, a staple of every French bakery.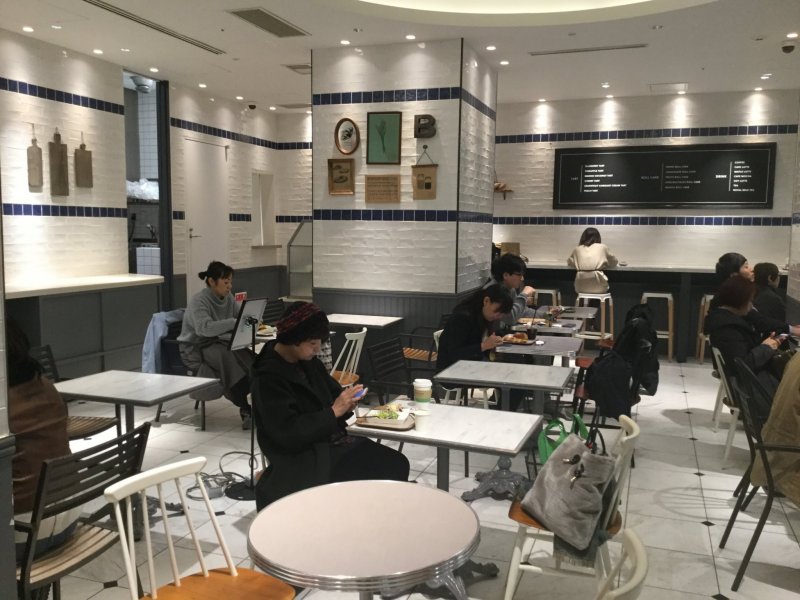 Tables quickly fill up during lunch.
Bread center
Croissants, a staple of every French bakery.
The French do not use the word boulangerie loosely. Only bakeries that bake bread on premises can call themselves a boulangerie. Luckily for those in Tokyo, there is Boul'Ange, which is the closest you can get to an authentic French bakery experience. You will be drawn in by the aroma of freshly baked bread wafting out of the store.
Boul'Ange prides itself in using carefully selected flour, which is the basis of authentic French breads and tradional favorites. Judge Boul'Ange by the most classic of French breads, the baguette or its shorter cousin, the bâtard. The crisp, brown, almost rock hard crust gives way to a delightfully soft, white, and airy inside. A friend of mine always takes home a loaf of Boul'Ange's bâtard (a steal at ¥350 a loaf). The bread is so good by itself, she simply makes a dip of olive oil and balsamic vinegar or sometimes just tops it with basil, a slice of cheese, tomato, or olive. Instant deluxe dinner.
For something more scrumptious, look for Boul'Ange's selection of viennoiseries — flaky, slightly sweet and buttery breads best enjoyed with coffee — the most definitive being the croissant and pain au chocolat.
And for more decadent treats, look for pastries, sweeter more colorful treats filled or topped with cream and fruits. In the pastry selection, you will find creations that celebrate the seasons, available for limited periods.
Coffee is reasonably priced at ¥300 for a regular cup which means that you have more change to splurge on another pastry or two.
The atmosphere is casual. Grab a table when you see one free — a bit difficult during the lunch hour — and clean up after yourself. Stay as long as you want, nursing your cup of coffee and slowly savoring your baked treat. If you to make your bread crunchier or warmer, vintage looking oven toasters are available in the dining area.
From the Tokyo Metro Hanzomon Line or Ginza Line, stay underground and follow exit towards COREDO 3. Boul'Ange is in the B1 level.