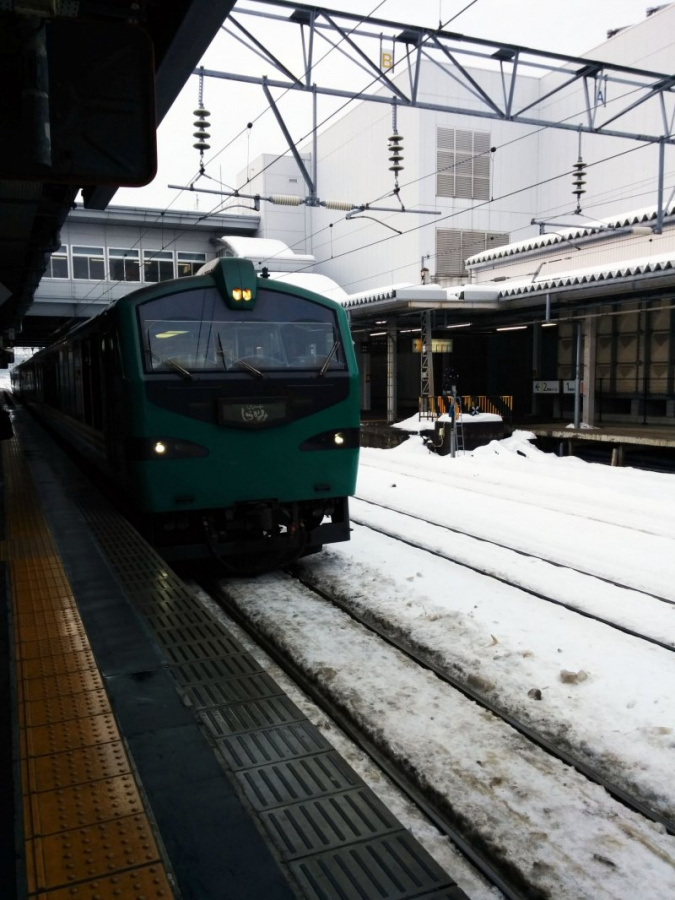 The train pulls into Akita Station on winter's day.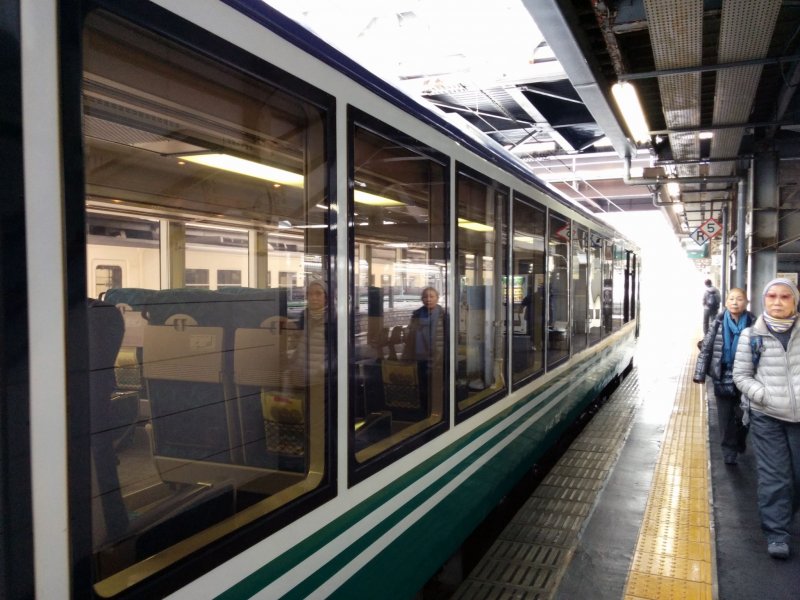 Extra large viewing windows line the sides of the train.
Even the regular class seats feature great views and spacious walkways with plenty of leg room.
Separate booths are also available for those who desire more privacy.
Rural village scenery.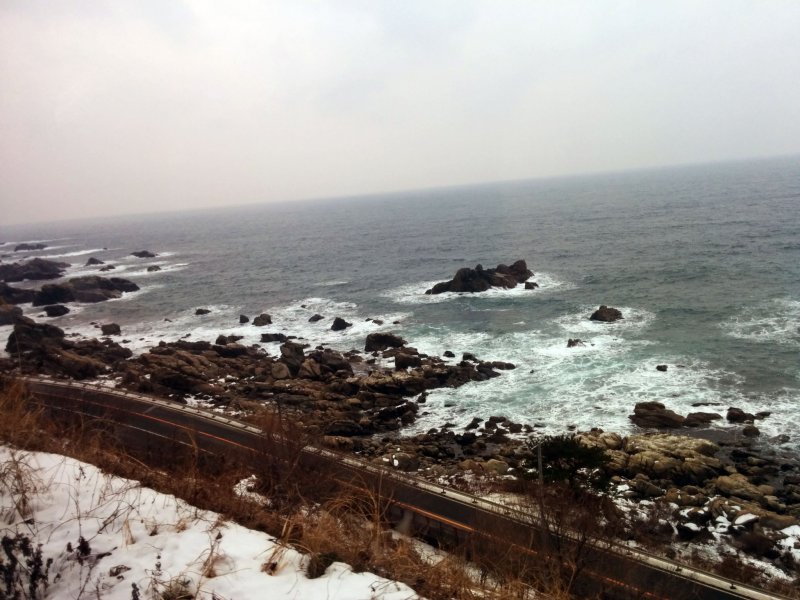 Great views of the Sea of Japan.
The Resort Shirakami is a pleasure train system that runs from Akita Station to Hirosaki in Aomori. There are three trains in total all with their own names and models, but they all are more or less the same and share similar characteristics, though one train only runs between Akita and Hirosaki and the others you may see hugging the coast of the Sea of Japan.
From Akita Station to the Aomori side of the World Heritage Site Shirakami Sanchi (exit at Juniko Station), the fastest way to get there is usually the Tsugaru Limited Express, or the express train with transfer to a local train in Noshiro. But if you are here for the views, do opt for a little bit of luxury.
The Resort Shirakami runs up to three times a day during the summer and winter months to showcase the sunny and snowy landscapes, but during the slow season the train runs as little as once a day, usually just weekends. All tickets on the train are reserved-ticket only. Keep in mind your JR Pass could also work for this, but you still need a reservation. You can purchase tickets in person at ticket retailers or the green window areas at major train JR stations. Tickets are more expensive than local trains, but not unfairly so as the view is amazing and the train is quite comfortable.
Trains are non-smoking, have huge nearly floor to ceiling windows for viewing, and reclining seats with plenty of leg room. For and additional cost you can rent out a booth in a separate car. There are shamisen (Japanese traditional guitar) or Japanese story telling performances on board as well. However, they are only in the first car for a limited time. The performance is not announced over the speaker (or at least I didn't hear it), so I ended up missing it. That wasn't a problem because after an hour or so of rural Akita countryside scenery, the view opens to the Sea of Japan. It's really breathtaking and powerful. The train even slows to a crawl along the best stretch of panorama for riders to take pictures and soak it all in.