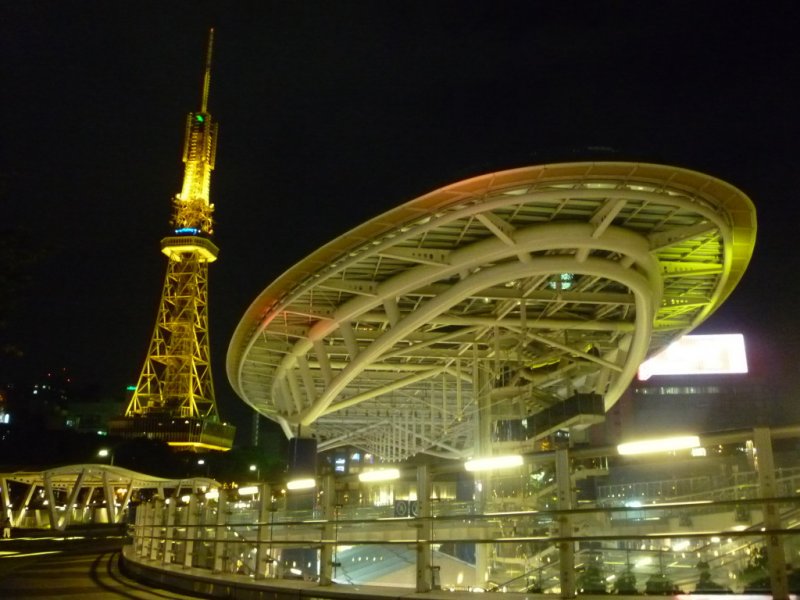 Spaceship Enterprise, or Spaceship Aqua? Oasis 21 with Nagoya's TV Tower behind it.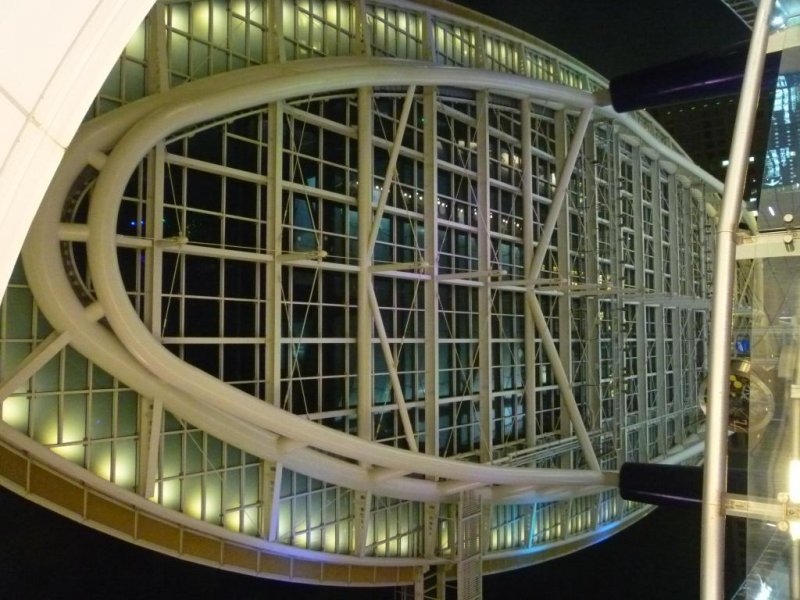 the large water filled Oasis 21 dish seen from below.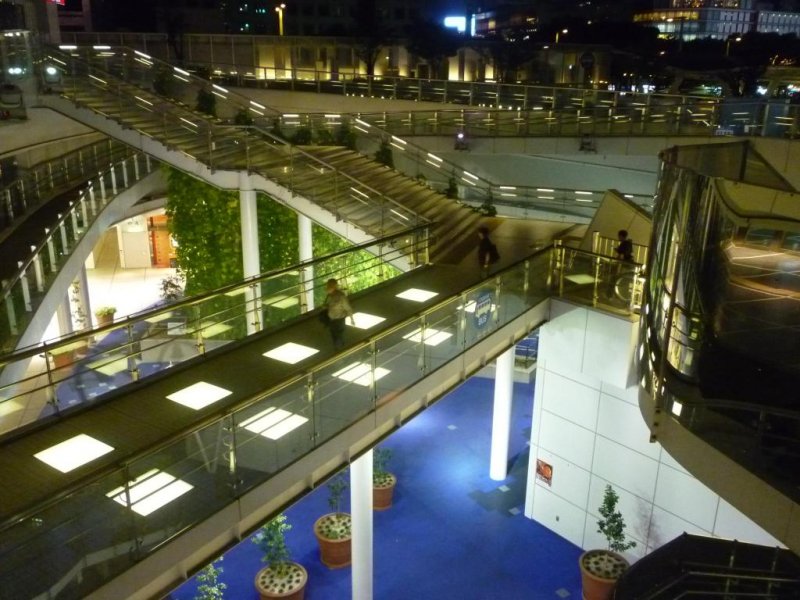 Below the large dish is a network of walkways and bridges leading to the various shopping areas and bus terminal.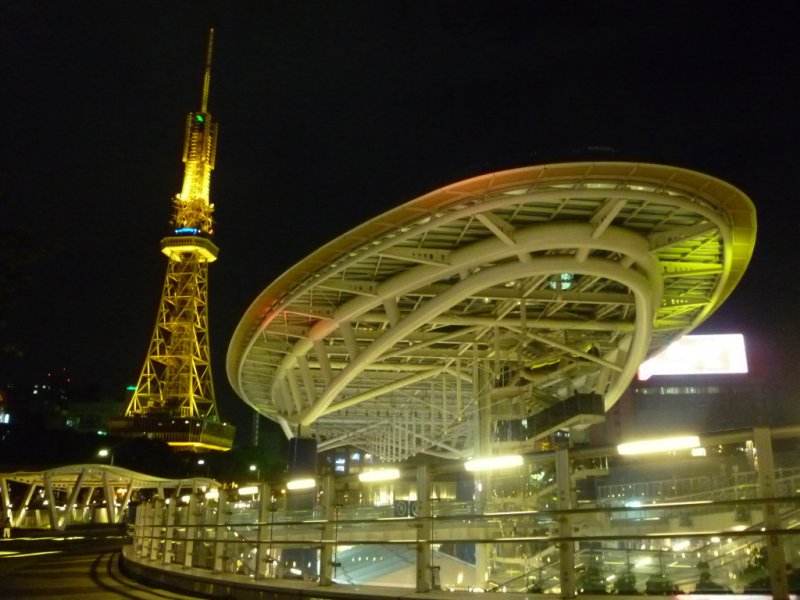 Spaceship Enterprise, or Spaceship Aqua? Oasis 21 with Nagoya's TV Tower behind it. (Photo: PPF)
You could be forgiven for thinking at first glance that Star Trek's USS Enterprise had docked in Nagoya City! But this isn't the spaceship Enterprise, it's the Spaceship Aqua, a glass and steel pipe structure holding a shallow pool containing some 15 tonnes of recycled rainwater. The water serves to cool the lower levels of the complex, particularly during Nagoya's notoriously hot summers, as well as for irrigating the areas of greenery, while providing protection from the elements for the event and shopping space below.
Located between Nagoya's TV Tower, the city's huge NHK building and the Aichi Arts Center, Spaceship Aqua is actually the upper level of Nagoya's landmark Oasis 21 complex, a futuristic looking site opened in 2002, and accommodating over 30 specialty shops and restaurants surrounding the semi underground "Milky Way Square" a popular events space directly under the huge oval-shaped dish.
Oasis 21 contains a Pokemon specialty store (understandably very popular amongst children and very busy during weekends and school holidays) an NHK character goods store, as well as fashion and apparel stores aimed at both the younger fashionable and more mature market. Services include banks, a mobile phone shop and a Nagoya tourist information office. Food wise, all tastes are catered for, with McDonalds, a bakery, Italian, Chinese and Japanese restaurants, including sushi, Starbucks, even a Baskin Robbins 31 Ice-creamery.
The conveniently located complex also serves as Nagoya's easy to access, 6,200 square meter central bus terminal.
Visitors can enjoy a walk around the outer edge of the fountain filled water dish, accessible by elevator or stairs, for a free panoramic view of Nagoya City central.
On the slope behind the dish and just in front of the NHK and Arts Centre buildings is the "Field of Green" a tree filled grassed area popular with businessmen and women looking to get out for the office during their lunch breaks, and with couples looking to soak up some sun.
Oasis 21 connects to the underground Central Park shopping boulevards under the Hisaya Odori park running north-south through the centre of Nagoya City. Oasis 21 is a popular sightseeing spot, a shopping venue, eating location and event site. As the name suggests, it really is an Oasis in Nagoya city.
More info
Find out more about Oasis 21.