A zen garden in the middle of the Tomobe Service Area shopping area.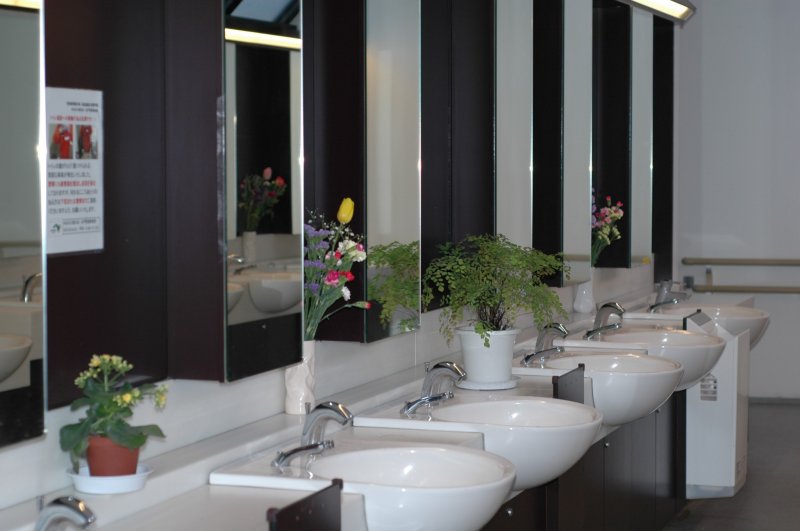 Japanese rest stop toilets are the world's cleanest.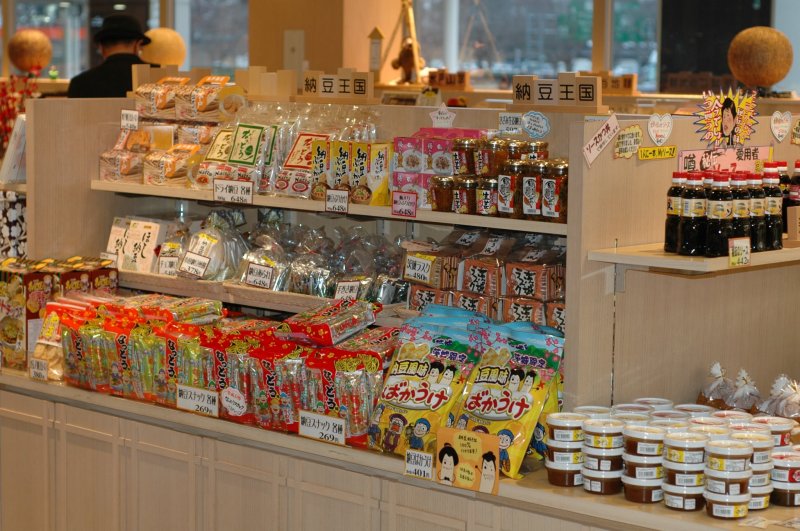 Local specialties available at the rest stop shops. 
Japanese rest stops redefine what service areas are supposed to be. Shortly before pulling into the Tomobe SA after a two hour drive, our navigation system displayed eight icons of the facilities available (smaller rest stops have only about three or four icons), but what greeted us exceeded our expectations vis-a-vis rest stops in other countries. Having done a lot of road travels in Japan, the Tomobe SA is truly an oasis that exemplifies the best of Japanese rest stops. Here are my top 5 reasons why I think Japanese rest stops are the best in the world:
1. The toilets are clean. This is an important one because rest stops are often synonymous to toilet breaks. Imagine busloads and busloads of people using the toilets. I often walk into a rest stop toilet expecting them to smell like a dirty urinal but I'm always surprised by how clean they are. At the Tomobe SA, I did not have to wait as there were rows and rows of empty cubicles available (which I can only imagine fill up quickly on a busy day). Each toilet is equipped with a heated electronic seat and seat sanitizers. Some cubicles have child seats and if you need to change diapers, there is a separate area with multiple changing tables. There were even flowers in the sink area which make it more visually pleasing.
2. Road information is available and helpful. In one of our past drives to Izu, we somehow took the wrong road in a fork and decided to stop at the very next rest stop. The person at information had several maps, and with a highlighter showed us how to get back on track and to our destination. Even when there's no person manning the information desk, maps are often available and free for anyone. Sometimes, there are electronic displays showing traffic jams or other road issues.
3. They sell local delicacies. If you want to sample the local specialties, you need not get off the highway. Rest stop are often stocked with yummy goodies of the area, great for omiyage (presents) and the prices are quite reasonable. There is something for travelers on any budget.
4. The hot meals hit the spot. I wouldn't put rest stop food on the gourmet list, but certainly if you're looking for something more substantial than canned corn soup from a vending machine or convenience store ramen, then rest stop restaurants may just be the thing. There is often a wide variety of meals available to suit various cravings. Some rest stops even have buffet breakfast offerings.
5. Convenience. The full service areas have almost anything you could ever need: gas station, charging ports for electric cars, postal service, fax service, lounges, smoking area, and a whole array of vending machines (in case you are looking for a particular drink). Some rest stops have showers. The rest stop in Suwa even has an onsen that overlooks the Suwa Lake. Rest stop gas stations are often full service gas stations that can even do an oil change if necessary.
Refuel, refresh, and recharge at a Japanese service area and see for yourself!